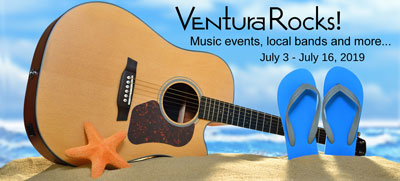 by Pam Baumgardner
VenturaRocks.com
The summer event of the year is finally upon us with Surf Rodeo taking over the beach on the southside of the Ventura Pier. The weekend of July 13 and 14 will be chock-full of music both days on two stages with The Expendables headlining on Saturday, and Hepcat on Sunday. For a full rundown of over 30 bands and to secure your tickets, go to SurfRodeo.org.
Congratulations to Leashless Brewing as they celebrate their 2nd anniversary on Saturday, July 6 with live music from Bombafiya at 3 pm followed by Shaky Feelin' at 6. Be sure to stop in for a cool one, especially if you've never tried their beer which is certified organic.
The band, Psychedelic Summer, will make their Woodstock-era tribute debut at Oak and Main on Friday, July 19. You're invited to dress up in your best 60s garb (yes there will be costume contest) while listening to Joplin, Hendrix, The Doors, Sly Stone and more!
The 4th of July Street Fair will offer live music with the Colette Lovejoy Band, Midnight Ride and Rhythm 805 on the California Street Stage, then it's Johnny & the Love Handles, Jukebox Rockers and Vendo 81 on the Palm Street Stage. The music runs 10 am to 5 pm.
One of the best tribute bands on the planet plays Thursday, July 11, and it's absolutely free! Don't miss Queen Nation 6:30 – 8 pm at The Collection in Oxnard.
Quick Notes: Shaky Feelin' will make their debut at the Ventura Theater opening for Galactic on Wednesday, July 3; Shay Moulder plays Harvest Café for First Friday, July 5; the Ventura Bike Hub has with Psycoticsum, Malice Thoughts, Fun Abuse and Boy/Girl on July 5; Schwab Academy of Music continues their free concerts over the weekend at the Ventura College Performing Arts Center; Concrete Jungle hosts a Psycho Billy Night on July 6 with Cursed Bastards and Caroshi from the San Fernando Valley; it's Hot Harbor Nights with the 805 Allstarz on Sunday, July 7, at the Harbor Cove Café; Gypsy Blues Band takes the week off for the 4th but returns the following Thursday, July 11, with special guest Shawn Jones at the Blue Room in the Ventura Harbor; The Hong Kong Inn will host a techhouse & techno party called ARRIVAL, on Friday, July 12; Music Under the Stars kicks off the 2019 summer season with British Beat on Saturday, July 13; and Plan B's Second Sunday Supper will offer up Ray Jaurique & the Uptown Brothers for your musical entertainment.
Ventura Music Festival will re-schedule their 25th anniversary overview this fall; but the regularly scheduled festival is going as planned with concerts running July 11 through July 21 at various locations. See VenturaMusicFestival.org for more information.
Do you have any music-related news or upcoming shows you want help publicizing? Please send all information short or long to [email protected] For updated music listings daily, go to www.VenturaRocks.com.