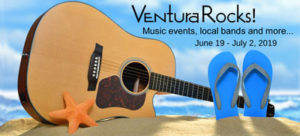 by Pam Baumgardner
VenturaRocks.com
Gearing up for the 2019 Ventura Music Festival (VMF) season, Artistic Director, Nuvi Mehta, will hold a free reception at the Museum of Ventura County on Sunday, June 30. Equipped with violin and video clips, Nuvi will highlight the past 25 years of VMF; donations will be accepted. The official program for this year runs July 11 through July 21. For a full listing of concerts go to VenturaMusicFestival.org.
When last I checked, there were only tickets available for two shows for the Music Under the Stars series this summer: Sound Effect (R&B, soul, pop, funk) for July 20 and Rodeo Drive (country rock) for July 27. All other concerts are sold out; secure your tickets for one or both of the remaining shows by calling the City of Ventura during regular business hours at (805) 658-4728.
There's a double hitter at Oak and Main on Saturday night, June 22, with Goodnight Kiss and Brothers Fortune; then on Sunday afternoon (noon to 5), June 23, don't miss the Americana showcase hosted by Medicine Hat, featuring RJ Bloke (Patrolled by Radar), Farm Truck, and Lasers Lasers Birmingham.
Discovery is giving you a chance to be up close and personal with actor and singer/songwriter, Jeff Bridges, when he plays the venue on Wednesday, July 24. Bridges has released a handful of albums over the years and will be performing acoustically as a duo. I can only imagine the backstory on many of his original tunes and the antidotes he'll share with the audience. Get ticket at DiscoveryVentura.com.
Quick Notes: Congratulations to Jodi Farrell who is celebrating her 25th anniversary since opening the Jodi Farrell Music Studio; reggae returns to Café Fiore on Sunday afternoons in the Tree House Lounge for the summer; Jon Gindick returns with full band to Grapes and Hops for a show on Thursday, June 20; MUNCH returns to the Museum of Ventura County with The Ventura Artists Union Jam Band on Thursday, June 20 (11:30 am – 1:30 pm); the Red Cove has live music on Saturday, June 22, with Zig Zags, Char-Man, Vnlvx and Tung; and Gigi's has reggae on Tuesday night, June 25, with Herbal Rootz and Ghetto Lions.
And finally, have I mentioned that I've been asked to emcee the Topa Mountain Music Fest at Libbey Bowl on Saturday, September 21 this year? Yessiree Bob! Performing this year will be Brett Dennen, Marc Broussard Band, The Mother Hips, Reverend Tall Tree, Bryan Titus Trio with the Brambles, Timmy Curran Band with Lee Koch, Tom Freund, and Quincy Coleman with Shane Alexander. Dude, that is a load of talent performing on one stage. Two charities will benefit this year: Stand for Cancer and the Glioblastoma Foundation. For more information and to get your tickets, go to TopaMountainMusicFest.org.
Do you have any music-related news or upcoming shows you want help publicizing? Please send all information short or long to [email protected]. For updated music listings daily, go to www.VenturaRocks.com.