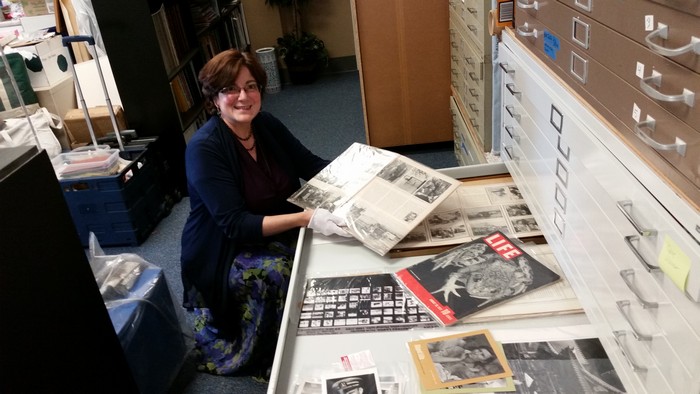 by Jill Forman
Donna Granata believes that artists' stories can inspire. Her nonprofit, Focus on the Masters, endeavors to share those stories along with their works, demonstrating the importance of the arts to a healthy community. "Art can save lives, my own personal journey is proof of that."
FOTM literally started in Donna's kitchen. Disabled from an accident, in pain and battling depression, the recent Brooks Photography graduate was trying to focus on what she could do instead of her limitations, driven by "a need to find what was nurturing to my soul." She was on the verge of losing her home, had no income, and took a brave step: she started a nonprofit. Her own story is as inspiring as those the FOTM artists tell.
As a photographer, she was already submerged in the art community; a graduate project she had done for Art City became the basis for what organically grew into a bona fide art archive and library. At her offices in Ventura, there are fireproof cabinets with art, documents, sketch books, show reviews, video tapes and so on from many area artists. And of course, all the research is digitized and safely stored. "It's a treasure trove of humanity," Granata rejoices. Archives contain hours of interviews and extensive research on each subject.
In the beginning, she started going through old photos and found images of well-known local artists which she would share. Her first Artist Spotlight presentation was a lecture on Beatrice Wood, then a friend suggested she interview some of these artists as part of future productions. As she says, "the penny dropped" for her future mission of sharing art with the community. "Art is a mirror of society; it's common humanity." As an example, she tells about one artist from an abusive home whose art tells the story of pain and fear. "It takes courage to allow yourself to be vulnerable." People hear these stories and don't feel alone; they see what the artist has done with their experience, turned it into art.
Learning To See is FOTM's art education program offered through the schools, "…empowering your child with the gift of creative and critical thinking." This outreach is ideal for 7th and 8th grade, but appropriate for any age. Every lesson is based on the life and work of one of the artists. Cross-curricular it can include geography or science as relates to the artists' life. The students love that they are utilizing the work of living artists in their community. The pieces the students make is always exhibited throughout the community; kids get to see their work up in libraries, coffeehouses, etc. There is also a partnership with turning Point, teaching art to those with mental illness and exhibiting their work. A flyer from a recent show says, "A celebration of the creative spirit!"
FOTM's archives are used by books, magazines, museum and gallery support staffs. Students use her resources for master's theses. The highest profile exhibition utilizing her information was at the Getty, of Horace Bristol and Dorothea Lange. Getty staff came to FOTM to do the research on Horace Bristol, including two full filing cabinets of his memoirs.
FOTM presents the Artist Spotlight series monthly at the Museum of Ventura County. A gala celebrating their 25-year anniversary will be September 14. A cultural excursion to Oaxaca celebrating Dia de Los Muertos happens October 29-November 5. Details, tickets or reservations for all these events can be found at focusonthemasters.com