An exhibition of artworks by Buenaventura Art Association (BAA) members at Harbor Village Gallery & Gifts, the group's beachfront location, will run until July 14.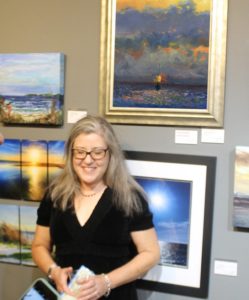 On May 18, awards were given at the BAA Juried Memebers Exhibit by Sharon Taylor, Executive Director BAA before a very large enthusiastic crowd of art lovers. The first Outstanding Merit Award was presented to Lisa Ann Mahony for her work "Sailing at Sunset."
Buenaventura Art Association also operates Buenaventura Gallery in Studio 30 at Bell Arts Factory, 432 N. Ventura Ave. For more about BAA and its programs, visit www.buenaventuragallery.org or call 805-648-1235.
Harbor Village Gallery & Gifts is at 1559 Spinnaker Drive, Suite 106, and is open 11 a.m. to 6 p.m. daily.