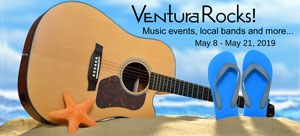 by Pam Baumgardner
VenturaRocks.com
It's still three months away, but I cannot wait for the Ventura County Fair this year! I'm loving their music line up which is always included in the price of admission. The fair runs July 31 through August 11 with music most nights on the Grandstand stage starting with Styx on the July 31, then it's Martina McBride on Thursday, August 1, with Melissa Etheridge on Friday, August 2. Saturday, August 3 has a triple bill with The Ohio Players, The Emotions and Evelyn "Champagne" King. Sunday is Dia de la Familia concert with X Ambassadors on Monday August 5. Tuesday has two shows, the earlier one features Tommy James and the Shondells and that evening it's Brothers Osborne. Wednesday, August 7, it's Daughtry, and then on his "Good to be Bad Tour" – 45 years of Rock, it's none other than George Thorogood and the Destroyers. I'd say I'm saving my favorite for last, but it is actually the last concert of the fair, and they are one of my all-time favorite bands, it's Collective Soul on Friday, August 9. The final two days the Grand Stand arena always hosts the P.R.C.A. pro rodeo.
There will be plenty of music at Surf 'n' Suds beer festival this year on Saturday, May 18, at Ventura State Beach (entrance at San Pedro Street off Pierpont Blvd). While tasting all the suds and ciders from over 65 breweries, you take in music from Soul Majestic, Flogging Seagulls and DJ Hecktik. For more information and tickets, go to www.SurfBeerFest.com/Ventura.
Quick Notes: Gindick has a new CD, you can get your own copy when he plays Grapes and Hops on Thursday, May 9; There will be a punk show at Concrete Jungle Brewing Friday, May 10; the Spring Swing Big Band Dance with Ventura Jazz Orchestra featuring Donna Greene will be held at Knights of Columbus downtown on Friday, May 10; Mother Sting Ray (formerly Strange Weather) play Oak and Main on Sunday, May 12; Ventura Music Festival presents NICO on Friday, May 10, at the Ventura College Performing Arts Center; Pizza Man Dan on Victoria hosts a Celtic Music Slow Session on the second Tuesday of the month; The Exploited play the Ventura Theater on Friday, May 17; Fluid State is celebrating their anniversary with Ventucky String Band on Saturday, May 18; Maid of Ace out of the UK play Red Cove on Saturday, May 18; The Knit Pickers play Made West on Saturday, May 18; Slim Jim Phantom's at Discovery on Sunday, May 19; and there will be a fundraising event for Casa at Olivas Adobe on Sunday, May 9, featuring Elvis impersonator, Raymond Mitchell.
And finally, I'm sorry to report the passing of Patrick Buley last month. He was a well-respected musician and will be missed by our community.
Do you have any music-related news or upcoming shows you want help publicizing? Please send all information short or long to [email protected]. For updated music listings daily, go to www.VenturaRocks.com.