Stage 2 of the tour last year was just a prelude to this year's bigger and better cycling spectacle.
by Mira Reverente
Expect to see a lot of fast bikes in the next few days when the 2019 Amgen Tour of California makes a comeback to our sunny, coastal city.
In 2018, the tour started Stage 2 at the picturesque Ventura Pier, in what can be described as an enticing prelude to this year's bigger cycling spectacle. This year, both the men's and women's races will finish stages at the celebrated Ventura County Fairgrounds.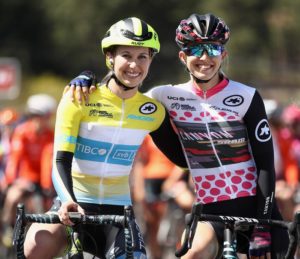 There's so much to look forward to for the tour's 14th year – 19 men's teams, 13 women's teams, five returning champions, potential 2020 Tokyo-bound Olympians and even local sisters competing in the women's race.
"The tour was passing through Ventura in 2016 and we made this video featuring students from Cabrillo Middle School that had so much online engagement," says Marlyss Auster, president and CEO, Ventura Visitors & Convention Bureau.
"The organizers were impressed with Ventura, and that started the whole discussion," says Auster, describing the long process of being designated a host city.
This year promises to be bigger and better with ballet folklorico dancers, mariachis, cowbells galore for spectators and still-to-be announced surprises to regale the crowds and cycling aficionados.
Says Auster, "We are eager to showcase Ventura pride while having the international spotlight."
While the local organizing committee is tending to planning, logistics and marketing, a pair of volunteer coordinators are busy recruiting and coordinating volunteers for the big day on Thursday, May 16.
Kate Faulkner, president of the Channel Islands Bicycle Club, is co-coordinator with Leslie Ogden. Together, the duo have their sights on recruiting approximately 300 volunteers to help local police with crowd control and the safety of both riders and spectators.
"It's very exciting finding all these groups who want to get involved in putting together a world-class event," says Faulkner, a Ventura local and bike safety advocate.
Volunteers usually come from local schools, service groups, bike clubs and non-profit organizations. "With the women's race starting at 12:10 pm, we're hoping some students will be let out early to volunteer," says Faulkner.
Aside from the intense volunteer involvement, another source of pride for Venturans is the participation of sisters Alexis and Kendall Ryan.
"I used to see them riding their bikes around town when they were kids," says Faulkner. "They rode everywhere together."
Kendall, 26, who rides for TIBCO-Silicon Valley Bank, won Stage 1 of the women's race last year. Alexis, 24, rides for Canyon-SRAM.
If you want to catch a glimpse of the Ryan sisters, there is a free, special presentation sponsored by the Channel Islands Bicycle Club at the Ventura County Museum, on Wednesday, May 8. Doors open at 6:00 pm but the program starts at 7:00 pm.
Otherwise, head to the Ventura County Fairgrounds before noon on Thursday, May 16 to catch the start of the women's race. Expect the men to get to the Fairgrounds sometime after 3:00 pm, from Pismo Beach where Stage 5 starts.
Both the men's and women's races will conclude in Pasadena on Saturday, May 18.
Kevin Clerici, chairperson of the local organizing committee states, "We want the world to see that we are a bike-friendly community. People will hopefully come and stay, and bike here in the future."
For more information and a complete schedule, visit www.amgentourofcalifornia.com/host-cities/ventura.