Big Ross, John Fuller, John Williams and Bob Loaselle presented the Chasing Tail Fishing event which was held on April 14, on the Ventura Pier. Cassidy Weddle was excited at her great catch.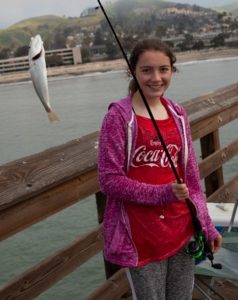 Every year they do a kid's day on the Ventura pier. Parents bring their children and they teach them how to fish and hopefully catch their first fish. They get donations and try and get enough fishing poles so every kid can take a fishing pole home. This will be their 5th year doing this event.
For more information please phone 805-258-2031 or email bigrosscontreras@gmail.com.
Photos by Bernie Goldstein