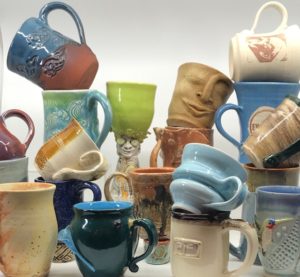 The Ceramic spotlight will shine on mugs at the Ventura County Potters' Guild Gallery (VCPG) in Ventura Harbor. Mugs from over 20 gallery members will be available for purchase on Saturday, May 18 from 5:00 – 7:00 PM. We invite our stalwart collectors and newcomers to join us for a coffee and tea reception with light snacks for this "Marvelous Mug Marketplace." Artists will be available to explain their inspirations, techniques and secrets. You can purchase your mug and immediately enjoy a cup of joe! Or just come to peruse the vast, eclectic collection made by our ceramic artists.
Mugs are a staple of many potter's wares. They are collectible (and affordable), make great gifts, and we often hear about the joy of starting the day with something hand crafted.
The VCPG Gallery is located at 1567 Spinnaker Drive, Suite 105 in Ventura Harbor. The gallery is open seven days a week from 11-6 and exhibits a vast variety of functional and sculptural ceramics. This event is partnered with a reception at the Harbor Village Gallery and Gifts.
The Ventura County Potters' Guild was founded in 1957 and continues its mission of promoting ceramic arts through the gallery, workshops, and monthly meetings. The monthly meetings are open to the public and feature ceramic demonstrations or presentations. More information at www.venturapottersguild.org