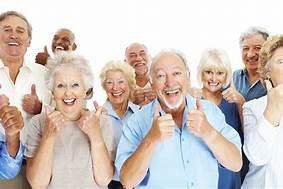 by Barbara Radziszewska Health Scientist Administrator, Division of Geriatrics and Clinical Gerontology.
Starting this year, a new NIH inclusion policy mandates that participants of all ages be included in human subject's research, unless there is a scientific or ethical reason for exclusion of any age category. The NIH Inclusion Across the Lifespan policy, developed in response to requirements in the 21st Century Cures Act, has been in effect since the Jan. 25, 2019, grant submission deadline.
The inadequate inclusion in clinical trials of older adults, especially those affected by age-related conditions, has been amply documented across many disease areas, including those that disproportionally affect older people. Participants enrolled in clinical trials are frequently younger and healthier than the typical population affected by a given disease or condition.
Some studies impose arbitrary upper age limits of enrolled participants. Others use exclusion criteria that disproportionally affect older people, such as multiple morbidities, polypharmacy, frailty, and physical or cognitive impairments. These restrictions reduce the relevance of the data collected in clinical trials to real-life patients in clinical settings. As a result, there are critical gaps in the evidence base and in clinical guidelines for older, more complex patients.
NIA staff and our NIH colleagues have been conducting ongoing research and analysis of this issue for a number of years. The 21st Century Cures Act mandated a workshop held in 2017, which resulted in recommendations for change (PDF 857K). More recently, NIA Deputy Director Dr. Marie A. Bernard and I, along with our colleagues Dr. Jaron Lockett and Dr. Samir Sauma, analyzed data on subject inclusion in Phase III clinical trials from 1965 to 2015, focusing on diseases that are the most frequent causes of hospitalization and/or disability in older adults.
Our analysis revealed striking evidence for the need to include more older adults. We found that 33 percent of the studies had arbitrary upper age limits, and 65 percent of the trials reported data of participants who were younger than the typical population affected by the disease under study. In addition, many clinical trials excluded participants based on multimorbidity and polypharmacy.
The expanded inclusion policy presents a new set of challenges to the scientific community, as it has implications for study design and recruitment planning. Although the implementation of the new policy may necessitate increasing the planned sample size to overcome the additional variability introduced by more inclusive enrollment policies, the expected result is well worth the additional effort and expense, given the urgent need to address critical gaps in the evidence base on the diseases and conditions of later life. This is a solid step in the right direction for improving clinical care for the nearly 50 million U.S. adults over age 65.