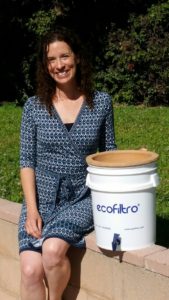 by Jill Forman
We all know water is life, right? But did you know that thousands of people world-wide have to walk over 4 miles a day to get it? And that so much of it is contaminated, that over 2000 people die daily due to unclean water?
Heather Baker and her Ventura-based organization CLEAN International are out to change those facts. Even losing her home and headquarters in the Thomas Fire six months after moving in didn't slow her down. She borrowed a dress and some shoes and went out to make scheduled presentations the next week. She credits the Ventura community for its support as being a major factor in the organization's survival in that painful time.
CLEAN won the National Organization award from Ventura Water at their Water:Take One Festival last month.
Baker, with a background in teaching, fundraising, and international conflict resolution, was looking for a "meaningful, tangible way to make a difference in the world. She and her family had moved back to Ventura where her husband is a physician and faculty member in the residency program at VCMC.
From a clinic doctor in Guatemala, she learned that water-borne illnesses are their worst problem and most common diagnosis. Ninety percent of the water in Guatemala is not safe for drinking due to lack of water systems. Visiting the clinic, she located a water filter made there called Ecofiltro, and set up a program to distribute them to clinic families.
Since then, she has expanded CLEAN's operations to Honduras, Tanzania, Uganda and Ghana. New partners have been found in Africa; "We align with people with the same core values."
Incorporated at a 501c3 in 2016, CLEAN and the Bakers moved into a home in the Ventura Hills in May of 2017 and lost everything in December. They have moved several times since then, into friends' houses and temporary homes. "We just kept running CLEAN, it was very hard," she admits. "A lot of what CLEAN has accomplished is due to the Ventura community. Ventura is amazing."
"Water unites everyone. We all need, use, and understand it. It's a joint resource that crosses boundaries; its quantity and quality are issues around the world." To decide where they can be the most effective, Baker and her board assess: is there a need? Can the effort be supported and partially funded by the community and its leaders? Can the filters be locally produced?
The "ripple effect" of water problems is what many do not realize. If a person is walking hours a day to get water, that person cannot work or go to school. "If you give them water everything else follows." Running the gamut from "water conservation efforts including tree planting, erosion control, smart technologies and rainwater harvesting, to the provision of clean water and sanitation through water filters, wells, toilets and the installation of sustainable water treatment plants," CLEAN is continuing to expand its efforts.
Her goal is "a world where nobody is thirsty, and the water is safe."
To learn more about CLEAN International, or to donate:
www.cleaninternational.org