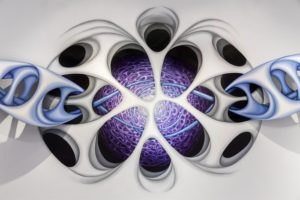 A Conversation with Erika Lizée , Sunday, April 28, 3 to 4:30 p.m.
The Museum of Ventura County, 100 E. Main St.
Erika Lizée, artist and professor at Moorpark College, also serves as the director of that campus's art gallery. As such, she arranges talks with exhibiting artists about their life histories and the way their art has progressed. This month we will turn the tables on Erika. We will listen to her as Donna Granata interviews this young, perceptive artist whose work reflects, in her words, an ever-shifting and nebulous boundary between what is known and unknown. To learn about Erika Lizée, visit www.ErikaLizee.com
Free to FOTM members, $15 for public; $10 for seniors.
To RSVP visit www.FocusOnTheMasters.com or call 805.653.2501.
AfterGLOW Fundraising Event:
Enoy a celebratory dinner at the Ventura home of Delia Gorey & Larry Manson, immediately following the program. Paid reservations are required prior to April 22. Maps will be given to paid guests at the interview. $30 FOTM members, $40 Non-members.