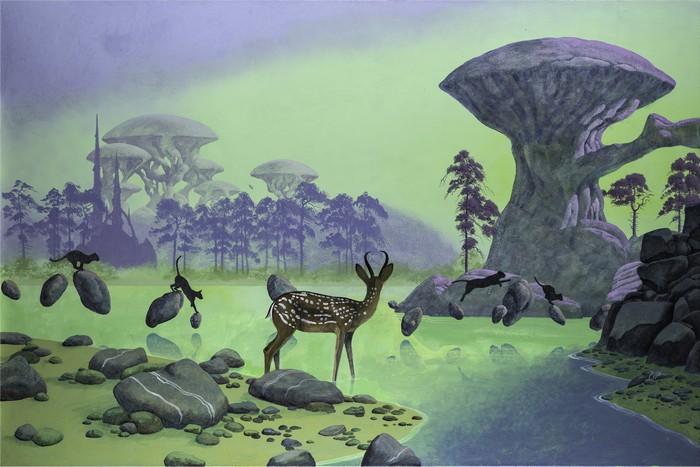 After traveling to the Netherlands in 2017 and Miami in 2018, The Representational Art Conference is returning to the Crowne Plaza Ventura Beach, where two California Lutheran University faculty members launched it seven years ago.
TRAC2019 will run from March 31 through April 4, drawing international academics, artists, collectors, critics and curators to discuss and to demonstrate techniques in a broad category of the visual arts. Representational art portrays identifiable people, places and objects.
Presented by Cal Lutheran for the sixth time this year, the conference will focus on the relationship between imagination and 21st-century representational art. Boris Vallejo, whose illustrations of fantasy characters are loved throughout the world, and his wife and fellow fantasy artist Julie Bell will demonstrate their drawing and painting. One of the panel discussions will explore "The Art History of Fantasy and Science Fiction."
Tim Jenison, subject of the 2014 documentary "Tim's Vermeer," is a keynote speaker. Intrigued by how Johannes Vermeer painted photorealistically 150 years before the birth of photography, the inventor set out to recreate one of the Dutch master's paintings with the use of 17th-century technology. Other presenters include Roger Dean, the prolific creator of album covers for the rock band Yes; Z.S. Liang, an award-winning painter from Agoura Hills known for his portrayals of Native American culture; and Corinna Wagner, author of "Pathological Bodies: Medicine and Political Culture" and "Art & Soul."
Academic presentations will range from "The Body of Christ, Trauma Porn and Realism in Western Painting" to "The Monuments Nobody Asked For." TRAC2019 also will feature movie screenings and demonstrations by sculptors Brian Booth Craig and Alicia N. Ponzio and painters Virgil Elliott, Teresa Oaxaca, Scott Prior, Alexey Steele and Pamela Wilson.
Participants will take field trips to view exhibits and talk to featured artists at the Blackboard Gallery in Camarillo, Carnegie Museum in Oxnard, and Kwan Fong Gallery of Art and Culture, William Rolland Gallery of Fine Art and outdoor Chalk Festival at Cal Lutheran in Thousand Oaks. Blackboard Gallery's "The Illusionists," curated by TRAC co-founder and Cal Lutheran art professor Michael Pearce, and the Carnegie's "The Imaginary: Art Commingling Realism and Imagination" were designed to reflect the conference's focus on fantasy.
Pearce and former Cal Lutheran art faculty member Michael Lynn Adams launched TRAC in 2012 to address what they saw as a lack of critical appreciation of representational art and to explore the new directions it might take.
For more information or to register, visit trac2019.org.