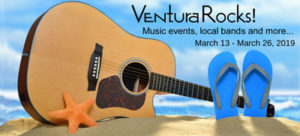 by Pam Baumgardner
VenturaRocks.com
This month marks the 10-year anniversary of VenturaRocks.com. I launched the website on March 17 because…well because it was ready to roll out, no other reason. But it's great to celebrate on a day where most everyone is happy to be out enjoying live music. So, let's get to what's going on music-wise for St. Patrick's Day this year.
Dargan's will have live music throughout the day with Irish bagpipers and such; the Brian Faith Band plays the Blue Agave; Kenny Devoe at the Boatyard Pub; Brandon Ragan Project at Copa Cubana; Shawn Jones at Grapes and Hops; along with Lauren Tannenbaum, bag pipers will make an appearance at The Shores (Oxnard); Bleeding Harp plays a special show at the VFW Hall; and as always, it's a special treat when the Ventura Fire Department Band makes their scheduled appearances on St. Patrick's Day starting at Social Tap at noon, then the Boat Yard Pub at 1:15, Made West at 2, Garman's Pub (Santa Paula) at 3:30, Rincon Brewery at 4:45 and wrapping up the day with a downtown crawl at 6 pm.
The Grape has another special event I want to make you aware of, they'll be presenting an artist out of New York City, Nir Felder, on Thursday, March 14 at the Hong Kong Inn. Felder is currently one of the hottest guitarists of the New York City jazz scene, not only are we lucky to have him play for us in Ventura, but the day before you can catch him on Ellen DeGeneres show.
Quick Notes: Margarita Villa in the Harbor is ramping up their live music again as the weather warms up; Naughty Pine out of Washington bring their brand of reggae to The Garage on Wednesday, March 13; the annual "Let's Go Out!" ARC event with The Vonettes, and Seth Pettersen & Friends will be at Bombay's Saturday March 16 from 5-8 pm; MisUnderstood rocks Food Truck Friday at the mall on Friday, March 15; a new duo, Heckel & Jeckel featuring Jerry Breiner and Divebar Steve (Kramer), play Winchesters on Friday, March 15; Uli Jon Roth (Scorpions) plays the Ventura Theater on Sunday, March 24; and finally the next artist to be featured on VenturaRockSpot will be Karen 805, you can find the video interview on VenturaRocks.com mid-March.
By the way, I'd like to invite you to tune in for the Pam Baumgardner Music Hour airing on KPPQ-LP at 104.1 FM, or online at www.CapsMedia.org/Radio, or using the MyTuner app (for your phone). I play local and independent artists in and around the 805 as well as artists who come here to play. The show airs Tuesdays at 5 with rebroadcasts Friday at 5 and Sundays at noon. Oh! And don't forget to tell a friend!
Do you have any music-related news or upcoming shows you want help publicizing? Please send all information short or long to [email protected]. For updated music listings daily, go to www.VenturaRocks.com.