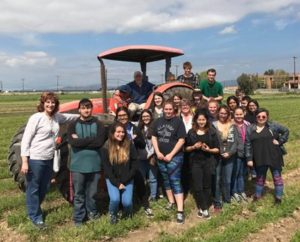 Sustainability Now News
by Maryann Ridini Spencer (@MaryannRidiniSpencer)
Totally Local VC Agricultural Education Foundation presents its third annual "Ventura County Ag Week," a celebration of Ventura County Agriculture from March 25 through March 31, 2019.
"Hundreds of locals and visitors alike turn out for this week-long event, and the crowds get larger every year," said Kat Merrick, Totally Local VC Founder. "The agriculture industry is so vital to our local economy. Considering this, Totally Local VC felt it would be great to introduce the community to its local farmers as well as ag organizations. Throughout the week, through a series of entertaining and educational events, attendees will get the chance to learn more about the economic role agriculture plays in our community as well as the jobs available in farming, and exactly what happens from field to fork."
In 2014, Ventura County ranked No. 10 among California counties in total crop value according to the California Department of Food and Agriculture. The most recent national data put Ventura county at No. 11 among all counties in the United States.
Week-Long Celebration Schedule:
The "2019 Excellence in Agriculture Awards Luncheon" on Monday, March 25 from 11:00 am to 1:00 pm kicks off the week-long celebrations. Honoring
agricultural leaders from farmers, ranchers to chefs and Ag educators, the event will be held at Limoneira Ranch Visitors Center in Santa Paula. Keynote speaker is Ag Commissioner Ed Williams. Chef Jason Collis of Plated Events is luncheon caterer. Reiter Affiliated Companies and the California Strawberry Commission host the build-your-own-strawberry-shortcake dessert bar. The event is open to the public and tickets can be purchased online at totallylocalvc.com.
"Meet-the-Farmer-and-Rancher Mixer Night" will be held Wednesday, March 27 from 5:30 – 8:30 pm at McGrath Ranch & Garden, 5100 Olivas Park Drive, Ventura. Attendees are invited to mix, mingle and taste the flavors of Ventura County while listening to the music of Karen 805 and participate in a silent auction hosted by the Ventura Chapter of (CWA) California Women for Agriculture. The event is free and open to the public (no-host bar).
Saturday, March 30, families are invited to enjoy a fun-filled day of music and a locally-sourced barbecue luncheon at Oxnard Historical Farm Park, 1251 Gottfried Place, Oxnard. Admission is free. Check time details at totallylocalvc.com.
Ag Week, along with help from its sponsors, also hosts private Career Exploration Day, which, held at the Museum of Ventura County's Agricultural Museum for some 600 pre-registered students and their teachers, showcases job opportunities in the field of agriculture, food science, and culinary arts.
"One of our main goals for this week is to work with area schools to educate the youth of our community," said Merrick. "Students will hear firsthand from local farmers and chefs about the important role agriculture plays locally and hopefully open up a new world to them in terms of future job opportunities, mentorship programs, and valuable friendships."
For more information, visit: totallylocalvc.com.