Kaylie Pendleton, this year's Irish Belle for the County Ventura St. Patrick's with Councilmember Erik Nasarenko.
Grand marshals of yesteryear will return to lead the 31st annual County Ventura St. Patrick's Day Parade, on Saturday, March 16, in downtown Ventura. The parade theme is "Memories of the Past."
The contingent of grand marshals will be led by parade founder and former Ventura Mayor and Councilman Jim Monahan, who was previously grand marshal in 2008.
The whole county will turn out green for the parade, which starts at 10 a.m. at the San Buenaventura Mission on Main Street. The parades includes floats sponsored by civic groups, nonprofits and local businesses; high school marching bands and other local bands; car clubs; horses; clowns; and the Biggest Green Pig in the World, which will again be out in its full glory. There also will be dance groups, youth groups, fun-loving adult groups and other teams entered in the parade.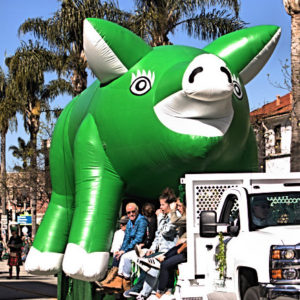 While this is a fun event for parade entrants, they're also out there competing for the prized trophies that are presented at the end of the route, on the stage at Main and Chestnut. About 20 trophies, including the historic Arnold Hubbard Best in Parade Trophy, are presented to the winners.
High school senior Kaylie Pendleton of Ventura has been selected to serve as this year's Irish Belle for the Parade.
The parade's eighth Irish Belle, Pendleton will attend promotional activities supporting the event. Accompanying her in a separate convertible will be her court: Carly Hansen from Buena High and Annika Kinnaman from Foothill High.
A senior at El Camino High, Pendleton will graduate with not only her high school diploma but her associate degree from Ventura Community College. She is "a very strong student," El Camino Principal Cheryl Burns said of Pendleton, who has been on the El Camino principal's honor roll every semester of high school.
Pendleton is active in her community and believes in the power of giving to others. Among the many community art projects in which she's been involved is the "Havana to Ventura" mural in downtown Ventura, which she helped paint alongside Cuban artist Pedro Pulido and local artist and art teacher MB Hanrahan. In 2016, Pendleton won the Ventura Mayor's Arts Award for Student Artist of the Year. She has also traveled to Romania to help with children's literacy and assisted with an outdoor adventure camp for children. She will attend Pacific Northwest College of Art in Portland, Oregon; with her two-year degree already in hand, she plans to graduate with a bachelor's degree in two years.
Parade entrants begin to line up at 8 a.m. in the Museum of Ventura County parking lot; the community is welcome to meander down there before the parade. The blessing of the parade by Father Tom Elewaut from the San Buenaventura Mission will begin the parade at 10 a.m.
The County Ventura St. Patrick's Day Parade is presented by the Ventura Elks Lodge No. 1430. For more information about the parade, visit www.venturastpatricksdayparade.com, email Jim Monahan at [email protected] or email Nan Drake at [email protected] parade is presented by Elks Lodge No. 1430. Parade entries will be accepted until March 7; to register, visit venturastpatricksdayparade.com. For more information, contact Jim Monahan at [email protected] or 805-643-4275; or Tim O'Neil at [email protected] or 805-320-3181.