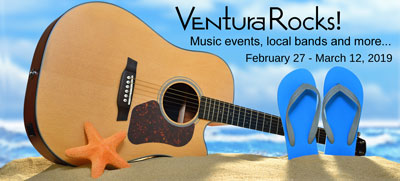 by Pam Baumgardner
VenturaRocks.com
Let's talk about ensuring we have jazz in town, and not just every now and then. I'm talking about a venue where you can count on not only local artists having a place to showcase their talent, but a jazz house where world-class musicians travel to Ventura (some actually live here) to play in front of an appreciative audience. Of course, I'm talking about Squashed Grapes re-opening at their new location in mid-town Ventura. If you'd like to weigh in, then you are invited to attend the obligatory public hearing to be held at Ventura City Hall in the Council Chambers on Wednesday, April 10, at 6 pm; please mark it on your calendar now. I'll be there, and I'm personally inviting you to come help Adam and Josh reopen Squashed Grapes. Long live The Grape!
Sorry to report we've lost another venue for live music. I'd like to thank Kristen Shubert for the past few years for running Vintura at the Wine Rack and offering not only a lovely place to hang, a crew happy to describe the wines available but for also supporting Ventura's music scene by providing an eclectic mix of artists on their stage. Unfortunately, she lost her lease but she went out in fine fashion by selling everything in the venue from bottles of wine at half off, to all items in the store, cushions to artwork. Her last day for music was Monday, February 25, with artists showing up to jam as a final send off.
Quick Notes: The Black Angus at Main and Telephone now offers live music 5:30 – 8:30 pm on Thursdays; The Grape presents Doug Webb featuring Danny Carey (TOOL) at the Hong Kong Inn on Saturday, March 2; Pennywise plays the Ventura Theater, Saturday, March 2, Zoe on Friday, March 8; Salzer's has an in-store performance from Trouble in the Wind on Friday, March 1 at 6 pm; the Ventura College Symphony Orchestra's Concertos night will be Saturday, March 2; Bank of Books will have three bands in the house for an all ages show on Saturday, March 9, at 6 pm featuring The Crawdads, The References and King Archie; Luicidal Tendencies, featuring members of Suicidal Tendencies play The Garage on Tuesday, March 5, along with IDecline, Sick Sense and F.S.K.D.; and finally Jodi Farrell will once again highlight her students with a performance workshop at Namba on Saturday, March 9, at noon.
Just a side note, The Lantern Festival seemed to be a success if you're solely going by the number of people participating. I hope they'll be back next year, maybe advertise a little more and I hope the weather cooperates with less wind. Of course, it could have been worse, it could have rained.
Do you have any music-related news or upcoming shows you want help publicizing? Please send all information short or long to [email protected]. For updated music listings daily, go to www.VenturaRocks.com.