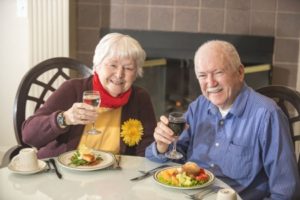 Are you thinking about an Independent Living lifestyle outside of your own home? One where you no longer need to cook, take care of the water heater, leaky roof, or overgrown yard? Or perhaps you are just looking for a retirement living environment that provides more social interaction, and the opportunity to develop new friendships.
On Thursday March 7, from 12 noon to 2pm, Cypress Place Independent Living in Ventura will be offering a free Lunch & Learn presentation to discuss the Independent Living lifestyle.
Come discover what retirement living is all about – and when to know it is the right time to move. Experience a Cypress Place Senior Living chef prepared healthy buffet. Enjoy exploring the options available to active seniors not ready for assisted living, but ready to enjoy an enhanced, vibrant lifestyle outside of their own home.
Lunch is free, but space is limited, so please call 805-650-8000 to rsvp.
Cypress Place Independent Living is at 1220 Cypress Point Lane, Ventura. To learn more about Cypress Place Senior Living of Ventura, visit their web site at www.cypressplaceseniorliving.com.