Ventura City Council members Cheryl Heitmann and Christy Weir and ex-council member Carl Morehouse were there showing support for the March for Justice. Photos by Bernie Goldstein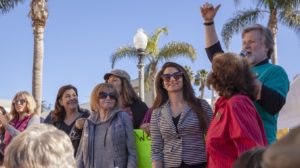 Even though the location changed because Plaza Park was saturated with rainfall an enthusiastic crowed celebrated the women's march. The starting point for the women's march through downtown was changed to the west of Plaza Park, at 133 S. California St. The event focused on empowering women but many men also attended.
It kicked off with speeches by local politicians and concerned citizens under sunny skies. Including State Sen. Hannah-Beth Jackson who addressed participants at the third annual March for Justice. Women elected to city councils to the U.S. Congress spoke, along with activists and concerned artists. Several nonprofit groups set up booths around the perimeter.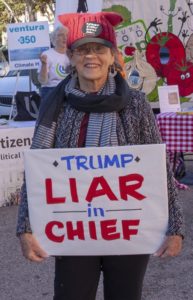 The march was held in tandem with the 2019 Women's March in held Washington, D.C. The local march was calling "Women Leading the Wave". In Washington is was called "The Women's Wave is Coming."
The local event, organized by the nonprofit group Justice for All Ventura County. Linda Livingston, one of the march organizers said, "The march provides an outlet for people wanting to get involved."
Besides the general support for women's rights and causes political protest was also evident during the march with many marchers carrying political signs.