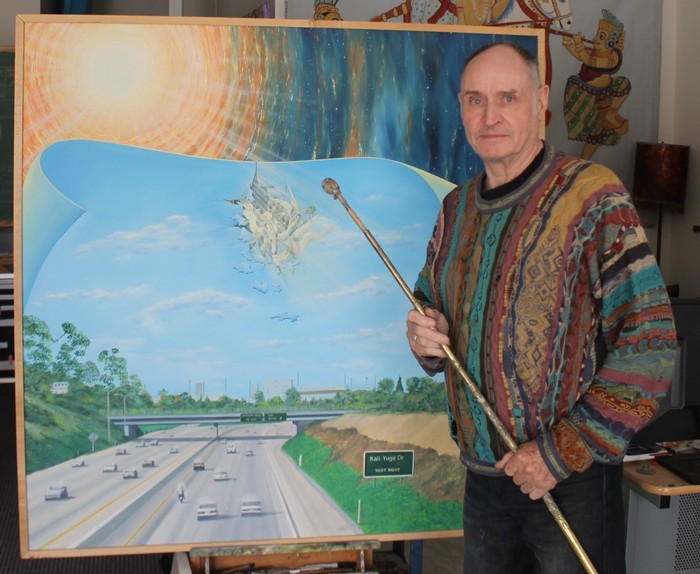 Paul Whitehead is a British born painter and graphic artist mostly known for his surrealistic album covers for artists on the Charisma Records label in the 1970s, such as Genesis and Van der Graaf Generator. He has lived in Ventura for a year.
An art show in London in the mid-sixties led to Whitehead being picked up as an in-house artist for the London office of Jazz record label Liberty Records. Previously, he had been studying at the University of Oxford on an art scholarship. The first record cover he designed was for a repackaged Fats Domino album. Additionally, Whitehead is also credited as a performer on the Peter Hammill albums Fool's Mate (drums) and In Camera (percussion).
In 1973, Whitehead moved to Los Angeles, where he continued to work on album covers as a freelancer. He is still most associated with progressive rock, but the record cover work is, however, only a part of what Whitehead does. Whitehead was in the Guinness Book of World Records for the largest mural, which he painted at the Vegas World casino (since demolished and replaced by the Stratosphere casino) in Las Vegas.
Whitehead has further designed many corporate logos and for three years he was the creative services director at The Universal Studios Theme Park in L.A. This got him interested in writing screenplays and he completed half a dozen scripts on many subjects
He also makes his own particular brand of music. His interest in science fiction, performance art and classical and progressive music has led to the composition, recording and performance of The Borg Symphony.
Paul's gallery-studio is at 110 N. Olve St, Suite R (behind Vons at Main and Ventura)
By appoinment only at 310-461-6316 or [email protected].