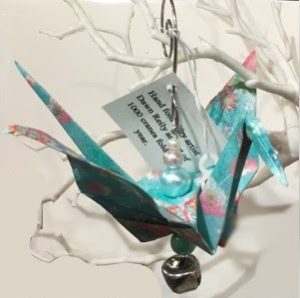 Buenaventura Gallery at the Bell Arts Factory
$25 per person, includes materials
Holiday Cranes of Peace workshop will lead you through the process of making origami cranes. We will also be using text, working on individual cranes, and a group mobile as well. All materials included.
Come celebrate Peace with us!
Participants can expect to make at least 2 cranes to take home as ornaments or gifts, for family, friends or for yourself!
Ventura born, instructor Dawn Reily started showing and selling her art in the local gallery scene as a teenager and started her own jewelry design business at age 16. Reily graduated from Sonoma State with a Bachelors in Fine Art, teaching credentials, and Associate degrees with concentrations in 2-D arts, sculpture, gallery management, jewelry design, printmaking, metals, Chinese brush painting, and computer graphics.
Buenaventura Art Association Gallery
Bell Arts Factory, Studio 30
432 N. Ventura Ave.