On Nov. 10, the Boys & Girls Club of Greater Ventura held 51st Annual Great Futures Gala & Auction "Havana Nights", at the Four Points Sheraton celebrating 80 years of serving local youth.
The evening included good food, good people, and good conversation, all for a good cause! Supporting your community's youth! A cocktail reception of champagne, hors d'oeuvres and a spectacular Silent Auction was held before heading into the ballroom where even more fun was had! Fine dining, hearing from this year's honorees, and bidding on the all-exciting Live Auction.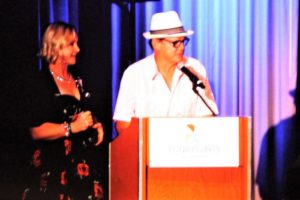 Opening comments were made by Board President Maria Ventura and the 2018 Youth Of The Year Marco Cardenas, from Buena High who thanked the Boys and Girls Club for the wonderful contribution that they have made to his life.
CEO Patti Birmingham stated "it is my sincere hope that as you enjoy the excitement, laughter and kinship of the evening, that you too will feel like a part of our family and know that you are making a difference. All proceeds raised this evening will be used to provide academic success, character and good citizenship and healthy lifestyles for the members of the Boys and Girls Club of Greater Ventura."
The evening honored to outstanding community leaders J.D. and Amber Drury. In 2010, they were asked to create a thrift store that would be a source of funding for the Boys & Girls Club. They then established the Avenue Thrift Store located at 222 Ventura Avenue.
J D is also known for presenting Ventura's summer surf festival the Surf Rodeo and on occasion can be heard performing with his band Raging Arb and the Redheads. Both he and Amber graduated from Ventura High School.
He stated "we are very proud of our contribution of almost $400,000 so far the Boys and Girls Club of Greater Ventura. Amber and I, along with manager Micci House, and our staff are dedicated to maintaining the quality reputation and popularity of the store. Our ever changing inventory is the key to our success and we would like to remind you how much we appreciate your continuing contributions. Amber and I invite you to visit the store on Ventura Avenue, we are open seven days a week. Thank you so much for your continued support."
The cost to provide critical services and to run all four of the boys and girls clubs is $150,000 per month with the cost of services for one child per year is $2,500. Parents are only asked to pay $50 a year for annual membership. No child is turned away for lack of ability to pay and many can't.
Visit bgclubventura.org for more information about the Club.