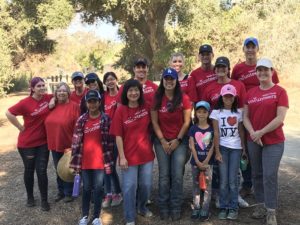 Ventura Land Trust (VLT) was recently awarded $10,000 from Wells Fargo & Company (NYSE: WFC) for Thomas Fire recovery activities at the Big Rock Preserve in Ventura.  VLT's Big Rock Preserve, located off Highway 33 in the Ventura River watershed, was hard hit by the Thomas Fire, losing 85% of the more than 1,000 trees and plants the nonprofit had planted on the property. In addition, there was damage to trails, tools and wildlife habitat.
VLT will use the funding to replant many of the trees and plants that were burned in the Thomas Fire. For the past ten months, community volunteers have participated in restoration work days at Big Rock, on Saturday, Sept. 21, a group of Wells Fargo employees volunteered to water newly planted flowers and trees and spread mulch to help prevent the spread of invasive plants and keep the new plantings hydrated.
 "We are very grateful for Wells Fargo's support of our Thomas Fire recovery efforts," said Derek Poultney, VLT Executive Director. "Thanks to financial help from companies like Wells Fargo, combined with the efforts of concerned community volunteers, there is lots of regrowth at Big Rock and the preserve is making a beautiful comeback."
In March, 2018, Wells Fargo committed $800,000 to help in the recovery efforts related to the Thomas Fire and Montecito mudslides. VLT is one of many nonprofit organizations that has benefited from the company's commitment to rebuilding and revitalization in the region.
Ventura Land Trust (formerly Ventura Hillsides Conservancy) is dedicated to permanently preserving and protecting the land, water, wildlife, and scenic beauty of the Ventura region for current and future generations. Founded in 2003, the 501(C)(3) non-profit organization is supported by over 600 members, local businesses, and government partners. Ventura Land Trust manages 90 acres of land along the Ventura River and is negotiating the purchase of its first hillside property. Ventura Land Trust's offices are located in the Poinsettia Pavilion, 3451 Foothill Rd.