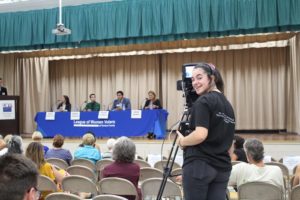 Don't forget the dates of Vote by Mail are October 8-October 30. There are Ballot drop boxes at County Government Center, City Clerk offices during their regular business hours, Clerk-Recorder East County Office at the Civic Arts Plaza, or any polling place on Election Day. You don't even have to get out of your car. There is a drive-up box in the hall of Administration parking lot too. The County Administration is located at 800 South Victoria Avenue, L-1200. Ventura County has introduced a new program where you can text and register or confirm voter registration by texting "Ventura County" to 2VOTE (28683). You can register via mail or text by Oct 22. However, you can still register until Nov. 6 by coming to the County Clerk's office.
As your local non-profit media membership organization CAPS Media and its staff are committed to providing the community clear and non-partisan information about the candidates and issues. Check the schedules found on our website, in the CAPS Media center and on social media for dates and times.
We have introduced and covered the entire slate of 26 candidates for the Ventura Unified School District, Ventura City Council and The Community College District races as well as the 11 propositions. With the new districting policy in place there are many more candidates for each race.
The ECTV students are so excited about volunteering to record the League of Women Voters forums that we had over twenty students past and present showed up. These students are field production savvy. The ECTV media program is highly sought after program in the educational community and we are proud of Phil Taggart who has been so instrumental in developing it.
The City of Ventura has announced the new city manager Alex McIntyre. We welcome him to our beautiful City of Ventura and look forward to seeing him at City Hall and at the CAPS Media Center.
Ventura County has quite a few places you can go for disaster preparedness and it's important to review these regularly. The City of Ventura uses VC Alert to inform the community of emergencies and critical messages via calls, texts and email. Go to the City of Ventura's website to sign up. More information on emergency preparedness can be found on the Ready Ventura County website.
Community Member engagement is CAPS Media Center mission. We are here to support members in creating an informed and educated community through electronic media. Both our television channels and radio are venues to share stories and ideas with the community. Become a member, take the Orientation, enroll in classes and create powerful and entertaining media to share with us.
Go to capsmedia.org for more information.