It will take at least 3 people to replace Mary. Photo by  Donna Granata, FOTM
by Maryann Ridini Spencer (@MaryannRidiniSpencer)
"Volunteering allows me to do meaningful work that feeds my soul as well as helps the community," said Mary Galbraith, a 15-year volunteer with Focus on the Masters (FOTM), a Ventura based non-profit that documents, preserves and showcases the works and lives of contemporary local artists emphasizing the value of arts in a sustainable society.
Galbraith, who considers herself a 'career volunteer,' also believes that volunteering is a 'calling.' In addition to FOTM, over the years she's worked in fundraising for such non-profits as San Fernando Valley Child Guidance Clinic (20 years) where she worked in fundraising, managed the volunteer corps, and served two terms as board chair. A Spanish major in college, and bi-lingual, she worked six years for MEND, a social services organization whose mission is to "meet each need with dignity" and helped provide information and aid and impart self-reliance to immigrant families. She also served as a trustee of her alma mater, Wilson College.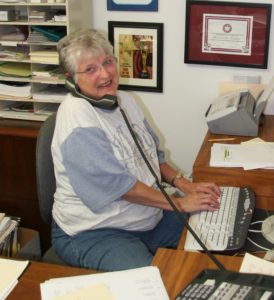 "Mary has such a wonderful personality," said Donna Granata, FOTM's Founder and Executive Director. "She's got an amazing sense of humor, she's a formidable writer, and she's the best office manager and executive assistant anyone could have."
"I started working with FOTM after watching Donna interview the late painter Seco," said Galbraith. "At the time, as an owner of one of Seco's works, I was so impressed with Donna, and the mission 'to capture history,' that I felt compelled to volunteer."
Galbraith began part-time with FOTM as a receptionist and volunteer coordinator. However, it wasn't long, that those few hours a week work turned into a full-time position where she took on a myriad of office duties.
"Volunteering is a great way to expand your mind," said Galbraith. "You learn about other peoples, cultures, and viewpoints. Because there's no monetary return, however, it's important to choose a mission that feeds your soul. The wonderful thing is, that when you open yourself up to new experiences, you quickly learn that anything can happen."
Galbraith, soon to turn 80, is a mother to three sons, and grandmother to nine grandchildren ages 4-26. She's been happily married for 56 years to her husband James, a former journalist who then became a senior executive with Hilton Hotels Corporation.
"Volunteering was convenient for my life," continued Galbraith. "As a mother, and because my husband traveled a lot in his career, it provided me with flexibility, which made it easier to travel with him and to work around the children as needed. The only time I've ever taken a break from volunteering is when we've traveled."
The Galbraiths, long-time residents of Ventura, recently moved to Thousand Oaks. The extra time the move added to Galbraith's commute, made her realize it was time to bid farewell to FOTM.
"I will miss FOTM so much. However, I tell my adult children, getting old doesn't mean you have to sit around," continued Galbraith who has no plans of slowing down. "My first week of retirement, I'll probably read a book. The second week, I'll probably make a quilt, the third week, I know I'll be back working in the community."
Travel is also on Galbraith's list of things to do. She and her husband often enjoy extended stays abroad in such European countries as France and Spain.
"We'll miss her tremendously," said Granata. "She's been such an enormous asset. Mary comes from a generation where people volunteer because they take great pride in their communities. Her legacy will have a lasting impact."
"I've been fortunate that in working with FOTM, I've been able to meet and work with so many talented and interesting artists over the years," said Galbraith. "I'm grateful for all the lasting friendships I've made; these are my people."
"No one ever really leaves us," said Granata. "Mary will always be part of our family."