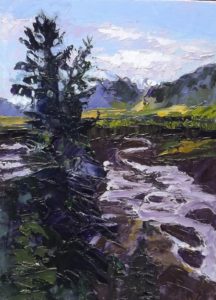 Buenaventura Art Association will feature a special ArtWalk show by Christine Apostolina Beirne, a longtime artist and its former executive director, in its new gallery at Bell Arts Factory in Ventura.
"90 Paintings in 90 Days" will be on display Oct. 4 through Nov. 11, which includes the Oct. 6-7 ArtWalk dates. There will be a private preview Wednesday, Oct. 3 – RSVP required, $5 donation to BAA. For tickets: https://www.eventbrite.com/e/90-paintings-in-90-days-private-preview-event-tickets-49079591379.
For more about BAA and its programs, visit www.buenaventuragallery.org or call 648-1235 during gallery hours.