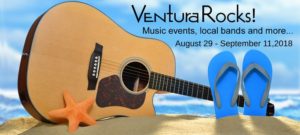 by Pam Baumgardner
VenturaRocks.com
I'm beginning to see several venues pull back on music during the week as summer comes to an end and fall officially begins (September 23), but music continues to abound with special events. Let's start with two epic celebrations at Plaza Park over the weekend of September 15 and 16. First it's a "throwback" Boots & Brews on Saturday featuring Montgomery Gentry, Deana Carter, winner of the Voice, Sundance Head and more. And then Sunday it's the grand finale of the California Beer Festival which is also celebrating its 10-year anniversary; musical performances will feature Hip Hop & R&B legends, Tone Loc and Sir Mix-a-Lot. For all the low down on the different ticket levels for each day, go to CalifornaBeerFestival.com.
The 25th anniversary of Bowlful of Blues falls on Saturday, September 22, and will be held at the beautiful Libbey Bowl in Ojai with performances from Selwyn Birchwood Band, Rod Piazza with special guest Carl Sonny Leyland, Teresa James & the Rhythm Tramps, Hot Roux and Kwan Telifaro Project. Tickets can be purchased online at BowlfulofBlues.org.
There's going to be an End of Summer Block Party hosted by Ribbons of Life Breast Cancer Foundation at Buena High School on Saturday, September 15. This family friendly event will feature the Beatles tribute band, Paperback Writer. The event starts at 5 pm with the concert at 7 pm. Tickets start at $20.
In honor of her 10-year anniversary release, Rain Perry will perform Cinderblock Bookshelves at Kim Maxwell Studio over the weekend of September 14 and 15. Advance tickets are recommended at RainPerry.com.
Both Josh Damigo and Brother Earl will perform at Made West Brewing on Wednesday, September 19, for Toast for a Cure, Real Men Wear Pink fundraising event for the American Cancer Society.
You might want to get your tickets now for a couple of upcoming Ventura theater concerts, including Hoobastank, SuicideGirls (two nights), The Selector and the English Beat as well as a Bowie Celebration featuring several artists who played with Bowie over the years including Mike Garson, Mark Plati, Carmine Rojas, Earl Slick and others. For dates and ticket information, go to VenturaTheater.net.
Quick notes: Jodi Farrell's Music Studio presents their singer's showcase at Namba on Saturday, September 15; Dad Brains has an in store performance at Salzer's Records 3 pm on Saturday, September 15; The Rubicon Theatre's "I Dig Rock and Roll Music" continues through September 16; Cracker plays Discovery on Friday, September 14 with the Morgan Leigh Band opening; Rock on the Dock continues through September with performances on the 15th from Crosscut 805, and a Fleetwood Mac tribute band, Fleetwood's Bac on the 22nd; and The Shaky Hand String Band out of Colorado will be at Made West Brewing Sunday, September 23.
Do you have any music-related news or upcoming shows you want help publicizing? Please send all information short or long to [email protected], and for updated music listings daily, go to www.VenturaRocks.com.