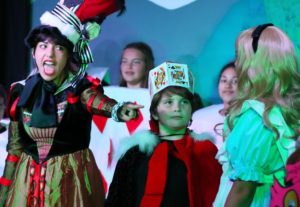 For nearly 20 years, the magic of musical theater has been brought to life in Ventura County by a performing arts troupe that has enriched the lives of young participants and their families, and audiences who have enjoyed top notch live productions in their own backyards.
Performance Theatre for Young Artists, a nonprofit theater company celebrating its 20th anniversary in 2019, has featured the talents of local children and teens in variety shows and live productions such as "Les Miserables," "Into the Woods," "Shrek," "The Sound of Music," "Beauty and the Beast" and "The Lion King." Through these performances, workshops and other activities, youngsters build performance, self-esteem, decision-making and communications skills; and learn how to work as a team to accomplish goals.
"I've seen shy children grow into confident performers," said Founder and Artistic Director Marta Dewey. "PTYA is also like a family," she said. "Kids and families who get involved find new friends, comradery and support. Many have made lifelong friends.
Like many Ventura County organizations and businesses, "revenues have slowed since the Thomas Fire last December," Dewey said. "For several months, there was much lower attendance and participation, and the majority of public contributions have gone toward fire victims and rebuilding our city."
As it enters its third decade offering children an outlet for their creative energy and filling an important niche in the community, PTYA depends in large part on individual and corporate tax-deductible donations.
Also supported by student participation fees and ticket sales, contributions are an important part of what keeps the group moving forward. Straight donations are welcome in any amount; and sponsorships are also available. Depending on the sponsorship level, corporate and individual sponsors receive benefits including mentions on flyers, posters and show programs; complimentary tickets and VIP seating .
Upcoming shows and workshops include "Beauty and the Beast," "Aladdin, Jr.," "Mary Poppins" and "The Sound of Music." New students and volunteers are always welcome.
The group's next production will be "Shrek the Musical, Junior" and will be performed at the Poinsettia Pavilion. Sept. 15, and 6 p.m. Sept. 16. Admission is $15 for adults and $12 for children, seniors and students.
More information about this and other shows, PTYA programs and enrollment, as well as donations/sponsorships, and a PayPal link are posted at www.ptya.org. Donations can also be sent to Performance Theatre for Young Artists, 3451 Foothill Road, Ventura, CA 93003. For questions, email Founder and Artistic Director Marta Dewey at ptyaplays@gmail.com or call (805) 302-6441.