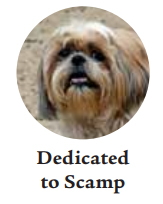 • On September 16, 9:00 am to 12:00 pm Ventura Pet Wellness & Dog Training Center presents Have You Always Dreamed of Working with Animals as a Career? Ventura Pet Wellness & Dog Training Center will be hosting our 2nd Annual Animal Career Fair!
Located at 3521 Arundell Circle #B Ventura.
This event is free to the public. Everyone is welcome!
Please visit www.venturapetwellness.com for an updated list of some professions that will be represented. (Children 14 years and younger must be accompanied by an adult)
• Paw's Corner
by Sam Mazzotta
Fat Cat Brought to Tears by Diet
Dear Paw's Corner: Help! My 6-year-old cat, "Misti," has a serious weight problem, and the veterinarian said she needs to drop several pounds. The vet told me to feed her less, but Misti cries constantly around feeding time and won't let up until I put more food into her bowl. What else can I do? Are there weight-loss supplements for cats? — Helen T.
Dear Helen: Helping your cat lose weight can be a struggle, but we all know that getting Misti down to a healthier weight will improve her quality of life.
There are several supplements and cat foods formulated specifically for cats that say they help with weight control. One supplement, L-Carnitine, may be helpful, but consult Misti's vet first for the proper amount to give her.
A calorie-restricted diet is the most effective way for Misti to lose weight. However, according to veterinarianÊand clinical researcher Dr. Mark E. Peterson, reducing calories alone isn't effective. You must increase the amount of protein that Misti gets and reduce the amount of carbohydrates. The way to do this is to replace part of her dry food with real meat (plain chicken, steamed and cooled, for example). A high-quality canned food also may help increase protein, but read the labels very carefully.
To make the diet easier on both of you, prepare Misti's food a few days ahead, separating each day's fresh and dry food into separate containers. Dole out her meals twice a day. Save a little each time and when she cries for more food, place that small amount into her bowl. That trick, plus the increased protein, will help satiate Misti as she adjusts to the new diet.

(c) 2018 King Features Synd., Inc.
• By Dr. Jerry Klein, CVO
I have a local professional groomer that my dog and I both adore but costs prohibitive to take my dog as often as I would like, yet I'm intimidated to bathe, groom, and trim my dog's nails on my own. What are some ways I can manage my dog's hygiene and grooming on my own?
While good hygiene habits are essential for a healthy dog, unlike humans, most dogs do not require daily hygiene and grooming habits. What is required, and how often, depends on the breed. Hygiene such as teeth brushing, ear cleaning, nail trimming, and brushing are most certainly an essential aspect of regular dog care, regardless of the breed. A lot of people do not enjoy the process of grooming their dog, especially the less pleasant parts, i.e teeth brushing and nail trimming. If you are unsure when it comes to clipping dog nails that are too long, there are many online guides you can find that can help you in this process. You might struggle with everything though when it comes to dog grooming. You might not know what to use, what products to get etc. . . When it comes to things like ear cleaning though then it might be a good idea to check out this article here (visit https://www.puppywire.com/dog-ear-cleaner/) to help you figure out what products you should get. You might not get everything perfect from the start, but just remember that your dog will always love you. That's why dogs are great. There are loads of things that you can do for your dog (you might as well spoil your dog when you can). For example, why not get them a nice comfortable waterproof dog bed (if this is something that interests you then you could check out a website like https://www.jugdog.co.uk/best-dog-beds/waterproof-dog-beds/). It's not just dog beds that you can get for them though, you could treat them to a new toy, or their favourite snack. Whatever you decide, I'm sure your dog will love it.
Professional dog groomers, professional dog handlers, and some veterinary technicians are well trained in grooming, so you can be assured that your pup is in good hands. However, it's certainly useful for owners to learn maintenance grooming to keep their dogs looking sharp in-between visits to the groomer.
One of the best sources of information for grooming can be your dog's breeder. An AKC responsible breeder will often have a wealth of knowledge .
Dog Grooming at Home: Obtain the right tools: the mentors listed above will help guide you in the purchase of the right nail trimmers, a styptic powder used to stop nail bleeding such as Kwik Stop, teeth cleaning tools, brushes, wide and fine-tooth combs, shampoos, and even blow dryers if needed. They can also help you learn about proper tables used for grooming and even a grooming arm that will hold your pup in place.
Use a brush that is intended for the coat of your dog breed. For example, bristle brushes are preferred for short-haired breeds and sleeker types of brushes are preferred for long-haired breeds. Check with your professional groomer, breeder, or veterinarian to ensure you are using the best option before making your purchase.
With the appropriate brush for your dog's coat, brush your canine companion every other day (even short-haired breeds) to remove dirt and debris, prevent matting, control shedding, and create a shiny coat.
Keep your dog's nails trimmed. Your vet and/or groomer can show you how to safely trim nails. Before you start trimming nails, make sure you have easy access to a product that will stop the nail from bleeding if cut too short, such as a styptic pencil or a cauterizing powder.
Is your dog a breed that has hair covering his eyes? If so, clean with a damp cloth and keep the hair trimmed. Make sure the cut doesn't cause hair to fall into your dog's eyes and irritate them.
Daily brushing of your dog's teeth is best, but you should brush your dog's teeth at least a few times per week. Plaque starts to build up after 48 hours. You can also try wrapping your finger with gauze or a washcloth. Wipe the teeth and massage the gums. Dental problems in dogs can lead to other problems, including serious health issues such as heart disease, kidney disease, and more.
Do not use "human" beauty and hygiene products such as shampoo, conditioner, and toothpaste on your dog. Many human toothpastes contain xylitol, which is toxic to dogs.
•A dog or puppy is a huge commitment of time, money, and energy, and you need to make sure that you're ready before you bring a pet home. You also have to consider a dog's potential needs in the future. Adopting a puppy is different from adopting an adult dog, and adopting a senior dog has its own challenges, too. With puppies, you'll have to factor in the cost of vaccination, spaying and neutering, training and socialization classes, and new equipment like leashes, bowls, toys, and more. Puppies require a lot of stimulation and play, and also frequent naps. Their immune systems are not always fully developed, and they may have medical needs that adult dogs don't have. They may not be potty trained, so be prepared to clean up some accidents.
Adult dogs are usually up-to-date on vaccines and already spayed or neutered by their shelter. They tend to have a grasp on basic commands and may have started some sort of behavior training at somewhere like A Dog's Path – a San Antonio dog training establishment for example. Good shelters and rescue groups will often work with dogs in their care to teach them to be social and well-behaved, as it increases their chances of being adopted. This is something you should ask your local shelter about. Adult dogs have exercise needs and require mental stimulation. It is important that you can keep up with them. You may have to hire a dog walker if you're gone for most of the day or a pet sitter if you travel.
Senior dogs tend to be more relaxed. While their exercise needs may not be as extreme as puppies or adult dogs, they do sometimes come with health issues that must be addressed. You will also have to be prepared for end-of-life care. That said, senior dogs tend to be more used to living with humans and are able to become very attached easily. They make for great cuddle buddies, and they are often a dog of choice for senior owners who want a loving pet that has a manageable energy level.
Before you bring a dog home, you need to have a good, long talk with your family. Make sure everyone is on the same page, and that everyone's responsibilities are made clear. Who will be the primary caretaker? Who will do the feeding, the bathing, the walking, and so on? Once your human family is on board, you also need to make sure that your other furry family members, if you have any, are ready.