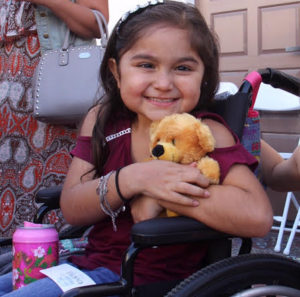 Teddy Bear Cancer Foundation (TBCF) held its sixth annual Gold Ribbon Campaign in recognition of National Childhood Cancer Awareness Month in September with a private event for its Tri-County recipients, volunteers, sponsors and siblings on Aug. 21 at the Gordic Grove in Elings Park in Santa Barbara.
This uplifting event treated guests to a picnic dinner in an outdoor setting and featured a brief program honoring TBCF volunteers, highlighting the campaign and introducing a family who has received support from TBCF. Throughout the month of September, the Gold Ribbon Campaign will promote ways to spread awareness and raise funds for the cause. The Campaign will culminate in a fundraiser luncheon on Oct. 4 at The Four Seasons Biltmore in Santa Barbara featuring silent and live auctions, an elegant lunch, live entertainment and an inspirational program.
The Gold Ribbon Campaign is TBCF's flagship awareness and fundraising endeavor; funds raised from this Campaign will enable TBCF to serve all eligible families requesting assistance without turning anyone away. Last year, TBCF experienced a 34% increase in the number of families needing financial assistance. In response to this growing need, TBCF set this year's Gold Ribbon Campaign goal at $370,000, its highest to date.
TBCF offers a wide range of programs to lessen the immediate financial, emotional and educational challenges that arise when a child is diagnosed with cancer while providing ongoing opportunities for families to connect with each other in a safe space. TBCF's three core programs address the needs of the entire family, alleviating financial and emotional challenges so family members can be there for what's most important – their child's well-being during one of the most difficult times of his or her young life.
"Gold was selected for the color of the awareness ribbon because it represents a precious metal, and our children are precious," TBCF Executive Director Lindsey Leonard explains. "Please Go Gold in September and join us in supporting local families by increasing awareness for this cause and raising critical funds for our programs."
Ways to Go Gold:
Sponsorship: Gold Ribbon Campaign & Gold Ribbon Luncheon sponsorship opportunities range from $1,000-$50,000
Donate: Make a gift in support of  a loved one, participate in the employee corporate giving program, arrange for planned giving, donate gifts of securities, host a benefit, donate a car or text "Teddy" to 91999
Encouraging Youth Philanthropy Program: TBCF will mentor kids from elementary school to college aged and help them raise funds with goals starting at $500
Set up a fundraiser on Facebook
Donate on Facebook
About Teddy Bear Cancer Foundation
Teddy Bear Cancer Foundation is a non-profit organization with a mission to empower families living in Santa Barbara, Ventura and San Luis Obispo counties who have a child with cancer by providing financial, educational and emotional support. Services are provided to families of children with cancer up to age 18 and continuing until the patient reaches 21 years of age. In 2017, Teddy Bear Cancer Foundation provided services to 839 individuals. In 2017, the Gold Ribbon Campaign raised $515,644. Since its founding in 2002, TBCF has awarded $1.85 million in financial assistance to 1,928 individuals. For more information, or to make a donation, visit www.teddybearcancerfoundation.org.