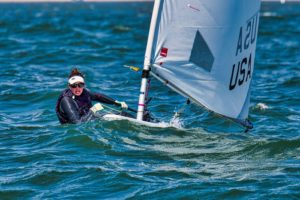 Annika Fedde, senior at Foothill Technology High School in Ventura, headed to Europe to train prior to competing in the Laser Radial Youth World Championships in Kiel, Germany held August 18-25.
Annika qualified for the 2018 Worlds through her 2017 results, ending the year ranked 3rd youth girl in North America.
"I am super excited to have the opportunity to be one of four American girls among the 101 competitors from 29 countries in the girls division", Annika said. "I am really looking forward to getting to know and racing against the top girl single-handed sailors from all over the world".
The Laser is a very physical boat with the sailor using their body to "hike out" in a plank position while sailing upwind to offset the wind's pressure against the sail. To prepare for the athletic challenge of the long races on the Olympic style courses, Annika commenced a sailing specific workout program at Mavericks Gym after school under the guidance of 2008 Olympic Gold Medalist Anna Tunnicliffe.
Annika's event schedule on the way to the World Championships began in January at the Atlantic Coast Championships in Florida and included the US Youth Championship in North Carolina, and Laser National Championships in Texas, Laser North Americans in California, and Pacific Coast Championships at the Columbia River Gorge in Oregon in early August.
Annika learned to sail at the Ventura Yacht Club summer sailing program where she first discovered her love for the water, wind and waves. She started competing in California events when she was 8 years old, then advanced to national and international events in the Optimist Dinghy, before moving into the Laser Radial class.
The Laser is the most popular sailing dinghy in the world with over 215,000 produced and has been the Olympic single-handed boat for men since 1996 and the Laser Radial for women since 2008. The Radial is also the top youth single-handed boat for boys and girls as they grow out of smaller entry level youth boats. Event information can be found at: http://laserworlds2018.com/