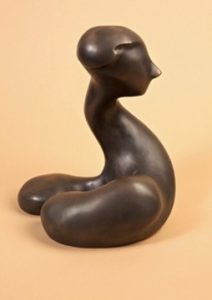 An Exhibition at Acuna Art Collective Social Security Building, 425 South B Street, Oxnard
Clay Coming To Life featuring the sculptures of  Jacqueline Biaggi,  Lynn Creighton and  Janet Neuwalder.
The clay itself is the messenger. Each artist in her own way has learned to interpret the results of the movement of the clay in her hands. Love and trust of the clay requires that each artist await the result of the interaction with the clay leading the way. Ventura artist Lynn Creighton's forms flow from the process.
Opening: September 21, 5-8 pm; Closing: November 2, 5-8 pm
Special Event October 12, 6-8 pm: Exploring and responding to the Exhibition with the guidance of poets Marsha de la O and Phil Taggart
Galleries open Thursday through Sunday 12 to 5
Exhibition sponsored and funded by City of Oxnard Cultural Arts Commission