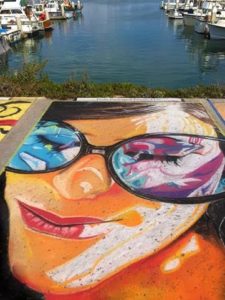 More than 40 talented chalk artists from Southern California will spend two days creating colorful, awe-inspiring chalk murals as spectators watch the images emerge on the Ventura Harbor Village promenade, September 8 and 9, from 10am to 5pm. The free, family-friendly Ventura Art & Street Painting Festival is also a benefit for local non-profits FOOD Share of Ventura County and Kids Arts Inc.
Children who attend the event may participate and create their own colorful work of art; for a $10 donation, kids will receive a box of chalk and a sidewalk square in the Children's Chalk Area hosted by Kids Arts, Inc. of Ventura. Visitors are also encouraged to browse the original artwork by a variety of vendors, including handmade wooden toys, jewelry and textiles, ceramics, photography, mosaics and other one-of-a kind crafts available for purchase.
Featured artist this year, Gus Moran, who has been street painting for fourteen years, says that some of the most enjoyable things about street painting are the interaction with the crowds and the appreciation people have for the artists' work. This year marks Moran's 5th appearance at the Ventura event and he adds, "the beautiful waterfront location in Ventura is especially fabulous — for us as artists and for people who appreciate art created in a scenic and vibrant venue."
World renowned chalk artist and Ventura resident Tracy Stum will also return to the VASPF for a second year, along with accomplished artist Rod Tryon who brings his 30 years of street painting experience to the event.
This festival is hosted by Ventura County Art Events, Inc. and since 2011 has donated more than $50,000 to FOOD Share of Ventura County.
Event information: www.venturaartfestival.com/ or www.facebook.com/vtaartandstreetpainting/