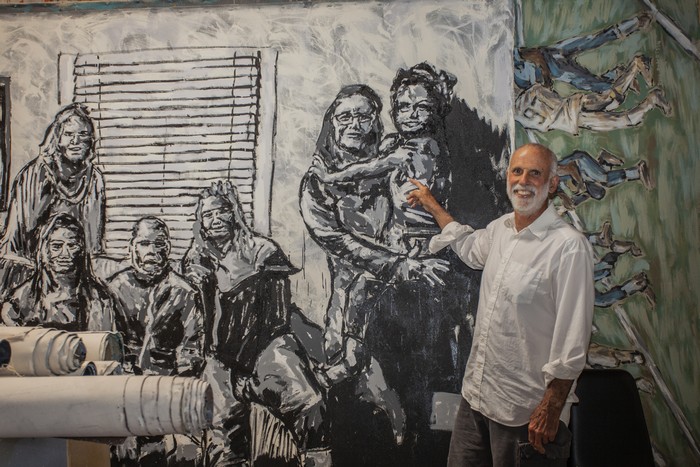 John Roberson painted a group of his family members He is pointing to his daughter Ashley and grand daughter Charlotte Photos by Bernie Goldstein
by Jill Forman
John Robertson didn't pick up a paintbrush until he was in his late forties. Today he has super sized sports paintings in 40 major sporting venues all over the country.
How did a middle-aged businessman with a middle-class lifestyle recreate himself so radically? Robertson is willing to tell the tale.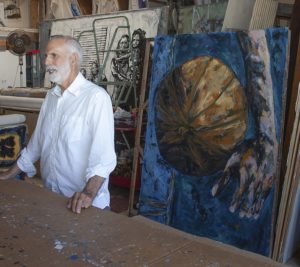 Growing up in L.A., he had "…no interest in art." He dropped out of high school at 17 and joined the Navy. "I wasn't going to graduate anyway." After the Navy, he "…bummed around." Back in L.A., he drove trucks, married and started CSUN; got his degree in English while working full-time. He wanted to be a novelist and took graduate classes in writing. "I wrote four really bad novels."
His company was impressed by his industry and work ethic. Over 23 years, he worked his way into senior management. So there we have the businessman, family man, homeowner…
To restate, he had never been interested in art; "I didn't know a thing about it." What did interest him was why the Getty Trust paid $50 million for a painting called "Irises" by some guy named Van Gogh. He lived near the Getty Museum in Malibu, so went on over to check it out.
His life changed. He saw the painting, "…burst into tears" and understood. He drove to the paint store to buy house paint – that's what you paint with, right? They told him, "That's not the right way" and sent him home with canvases and oils and turpentine. He stopped writing that day and has painted almost every day since, close to 30 years. This "obsession" (his word) cost him his job and marriage.
When that particular dust settled, he was living in a room on the Speedway in Venice (parallel to the Boardwalk,) selling paintings along the beachfront, having shows, promoting himself, "…able to survive." He got a space in a frame store as a studio. The store faced a busy street in the Palisades and drivers couldn't see his work so he made his paintings large for passers-by to appreciate. The frame store got a percent of the sales plus the framing. For 3 ½ years, five days a week, he made a living there as an artist.
He painted local musicians and writers; one of them was doing a bookstore poetry reading, and asked to borrow the painting of himself to put in the bookstore window for publicity. Other writers and bookstores followed with orders; at one point five stores displayed his paintings.
About 15 years ago, paintings of musicians in the windows of a nightclub on Wilshire Boulevard in Santa Monica caught the eye of a guy from Fox Sports, who wanted paintings for an NBA commercial. Today his works hang in the 49ers stadium, the Packers', the Vikings', the Bucks' and many others. You can see them at johnrobertsonsportsart.com.
These days John paints at a studio on Front Street, and lives in a guest house in Ventura with his wife, fellow artist Lynn Hanson. His daughter Ashley lives close by and his granddaughter Charlotte is a constant joy in their lives.
His current show, at the Ag Museum in Santa Paula, runs until September 9. He has a Gallery Talk there on August 23.