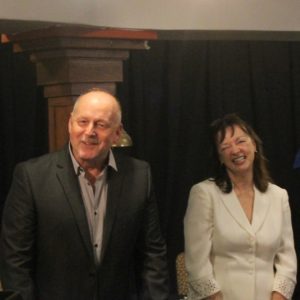 Jeffry George recently served as Executive Director of the Wellfleet Harbor Actors Theatre (WHAT), on Cape Cod, a post he held for six years, guiding the organization through significant financial and organizational realignment. Reporting to the Board of Trustees, Jeffry was responsible for administration, development, marketing, education, and community outreach.
He managed a seasonal staff of 45 and a volunteer program of 120. Jeffry also implemented an intern program for professional artists, with weekly seminars, career workshops and hands-on training through rotations in various departments.
While at Wellfleet, Jeffry led strategic planning efforts and provided leadership in consultation with the Harvard Business School CAP program. He secured $2.25 million in new donor funds.
Jeffry had primary individual responsibility for overseeing the construction of a new state-of-the-art, $6 million, 200-seat theatre completed in June of 2007, including serving as client representative to builder and architect and resident inspector for USDA-Rural Development (primary lender). Jeffry's influence and guidance on capital projects will provide healthy returns for the future of the organization; it will also be of enormous help to Rubicon as the company begins to address building and infrastructure needs.
Says Jeffry, "I have admired Rubicon's incredible artistic reputation for many years, and know many artists who speak of the company with reverence and respect. I am especially excited by Rubicon's commitment to developing new works."
"Throughout the interview process," he continues, "I have felt drawn to the company and to the community of Ventura. I look forward to working with Artistic Directors and Founders Karyl Lynn Burns and James O'neil, Board President Doug Halter, Board Vice-President Walt Wood who helmed the search process, and others in the organization to lead Rubicon Theatre Company into a new era of sustainability and strength."
He will also be working closely with Mary Jarvis and Development Director Amber Landis-Stover to reach out to the broader business community to invite new attendees and potential contributors to become a part of the Rubicon family.
Prior to his work at Wellfleet, Jeffry also served as Executive Director of Cantata Singers in Boston for nearly three years, a 60-member classical choral organization with an endowment of $2.5 million. As Managing Director of Theatre Aspen, he managed a four-show summer season, an education program for students ages 6 through 11, and was responsible for evaluating and implementing all administrative and financial policies.
During his long and successful career, Jeffry also served as General Manager of the 300-seat LORT/LOA Caldwell Theatre in Boca Raton Florida. He has an in-depth understanding of the artistic and production process, having been both a Production Manager and Production Stage Manager at Starlight Theatre in Kansas City, Paper Mill Playhouse in Millburn, NJ, and North Shore Music Theatre in Beverly, MA.
Jeffry is an advocate for the importance of theatre in society and in people's lives. He enjoys working collaboratively with various constituent groups to ensure that professional, quality theatre is accessible to the community he serves.
In his first 90 days, Jeffry will be focusing on building a Blue Ribbon Nominating Committee to advise the organization as we expand the Boards of Directors and Advisors based on an analysis of the organization's leadership needs.