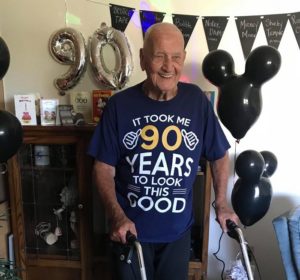 by Jennifer Tipton
When Susie Curtis first reached out to social media on July 16th to surprise her dad, Richard Crummie with 90 cards for his 90th birthday on August 2nd, she had no idea of the terrific response she would get! Cards came in from Georgia, Florida, Arizona and Canada, to name a few and some well-wishers sent gifts along with their card.
Mr. Crummie lives alone but has some problems with his eyesight, "it limits what I can do by myself, but I have friends that help me", he said.
When her dad returned after going out to get a haircut, Susie placed the mail on his lap, "it was about six inches thick and he was shocked, asking me what it was", Susie laughed. She told him it was his mail and he said, "all of it?".
Mr. Crummie told me that at first, he was overwhelmed with how much mail he had received and when he learned it was all birthday cards, he was "really taken back by it all!"
When I spoke with Susie and her (very surprised) dad on the afternoon of his birthday, he told me, "she'll have to read them to me of course, but definitely the best birthday ever!"
I asked what he's going to do now, he responded, "I think I'll try to be kind to everybody I come into contact with".
Susie said," but dad, I thought you were going to learn to jet ski?" He denied it saying he did all his exciting playing around in his youth, and added, "I think I'm gonna start all over – I'm going for 100!"
As of August 4th, Richard Crummie had received 131 cards and they were still coming in!