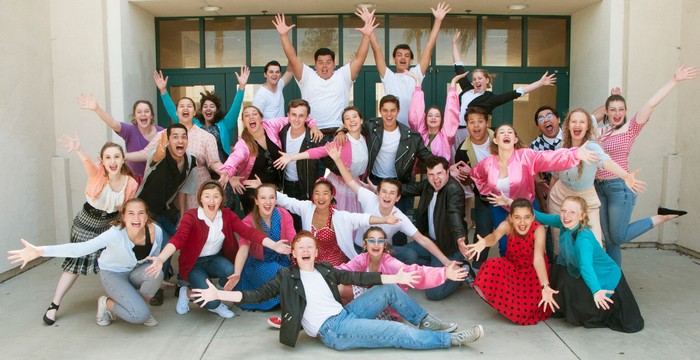 by Shirley Lorraine
Youth productions sizzle in summer
Summer is the perfect time to engage kids of all ages into fun and fascinating learning experiences.
Many Ventura County theaters have regular summer programs for youth to enjoy being on stage and behind the scenes, learning the craft as they go. It is always exciting to watch talents bud and bloom.
Camarillo Skyway Playhouse stages periodic youth productions via the CSP Stage Door Players and Camarillo Young Actor's Company. See their website for additional information. www.skywayplayhouse.org.
The High Street Theater in Moorpark concluded its summer youth production of Aladdin, Jr. just last weekend. Drat, just missed it. Be sure to calendar July 2019 for next year's offering.
Elite Theatre in Oxnard is currently presenting Yearbook – a humorous glimpse with a positive spin into life in middle school. The play accentuates how teamwork, caring and compassion help guide the students through various typical situations. Directed by Michael J. McGraw and produced by the Elite's Artistic Director L.J. Stevens.
Only two performances remain to catch this special production – Saturday and Sunday August 4 and 5. Curtain time 2 p.m. for both shows.
[email protected] General admission $15, Senior & Students $12, $10 under 10 years old. (805) 483-5118 or online at www.elitetheatre.org 2731 Victoria Avenue, Oxnard, CA 93035 (Victoria and Channel Islands)
The Ojai Art Center Youth Branch proudly presents The Little Mermaid, Jr., adapted from the Disney Broadway production. It is based on a Hans Christian Andersen story and features music, action and a cast of children from age 5 to 15. Directed by Gai Jones, the production continues its run through August 12.
General admission $15, under 15 $10. Friday 7:00 p.m, Saturdays 2 p.m. and 7 p.m. Sundays 2:00 p.m. through August 12. Ojai Art Center Theater, 113 S. Montgomery Street, (805) 640-8797, www.OjaiACT.org
Rubicon Theater's Education & Outreach 2018 Youth Productions Musical theater students present the ever-popular 50's musical Grease, celebrating its 40th year of delighting audiences across the globe. Enjoy a look into the past as the cast brings forth familiar songs such as Greased Lightning and Summer Love.
The staging features 28 Ventura County students ages 15-24 and is directed/choreographed by Beverly Ward and Jamie Torcellini.
The anniversary production corresponds to Rubicon's 20th anniversary of providing quality theater to Ventura County as well as in-depth educational opportunities for volunteers of all ages.
Performances are Friday August 3 at 7 p.m, Saturday August 4 at 2 p.m. and 7 p.m., Sunday August 5 at 2 p.m. and 7 p.m., Tuesday, August 7 at 7 p.m., Wednesday August 8 at 2 p.m. and 7 p.m., Thursday August 9 at 7 p.m. and Friday August 10 at 7 p.m. 1006 E. Main St, downtown Ventura, (805) 667-2900 or www.Rubicontheatre.org
Whichever production you go see, know that your support of youth theater programs across the county will provide the cornerstone for future talents. Help keep Ventura County theater alive and well for years to come.