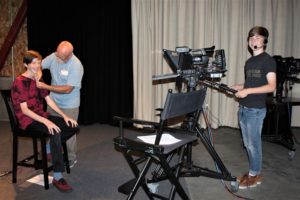 Did you know that CAPS Media Center has a radio station – KPPQ-LP, now just a bit over a year old. KPPQ broadcasts at 104.1 FM, streams online at capsmedia.org and on the myTuner app. KPPQ is a community run radio station broadcasting throughout the city of Ventura, into Port Hueneme, parts of Oxnard and Camarillo. We provide the opportunity to the community to share their voice whether it be through music, talk or a little bit of both. There is a wide range of programming on the station 24 hours a day. There have been some talented folks come through the small studio's doors producing entertaining content of great value. Talk shows such as The Face of Ventura, Around America's Table, Ventura Legacies as well as entertaining music shows covering a range of sounds including pop, punk, local funk, jazz, punk and spoken word featuring new and old from here and afar.
Training to become a show producer is easy – attend two classes, get in the studio and we will mentor you through the process. Community outreach is crucial to our success and we look to the community to support us by volunteering to produce a show and spread the word. What are you waiting for?
CAPS Media's Thomas Fire Stories series of extraordinary first-person storytelling continues every Friday at 6pm with Debbie Brokaw Jackson and Jose Alcarez of the Brokaw Ranch's story on August 17th. On August 10th Captain Steve Swindle of the Ventura County Fire talks about the fire from his perspective. On August 17th we will meet Ventura resident Kat Merrick as she shares her powerful and heartfelt story of her family, friends and the Thomas Fire. Tune in to CAPS channel 6, KPPQ-LP at 104.1fm and online at capsmedia.org. These shows repeat throughout the week.
CAPS Digital Storytelling workshop was a big success with the engaged group of students creating a video inspired by an Edgar Allen Poe poem. These students received a year membership and are already planning their next show. Go to the CAPS website to view it. Learn how you can utilize CAPS Media's extensive television and radio resources. Check the website for information on training classes where you'll receive hands-on instruction in videography, video editing, radio production and more.
Creating an engaged and informed community through participation in electronic media is the CAPS Media's mission. For more information, go to capsmedia.org or call 805.658.0500.