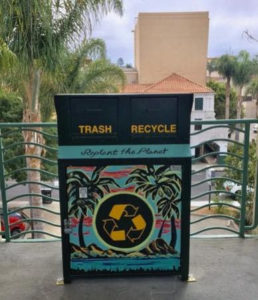 A new City Public Art project is currently in its installation phase. The "Beautifying Bins": Trash Can Public Art Project can now be seen at the Santa Clara street parking garage in downtown Ventura. This was a collaborative project between the City of Ventura Parks, Recreation & Community Partnerships department and the Environmental Sustainability division.
The project sought out artist(s) to transform trash bins into functional and artistic receptacles. The project encouraged the chosen artist to transform the bins into works of art to minimize vandalism, encourage recycling, and instill a sense of community pride. The Commission selected artist Cathy Winton for her creative designs that were attractive, fun, and the colors corresponded to the floors of the parking structure.
"Providing the public immediate daily access to high-quality works of art is key to building Ventura's civic pride and community identity. It is the goal of the Public Art Program that the entire city serves as a showcase that weaves art into our residents' everyday life," stated Tobie Roach, Public Art Project Specialist. For more information on current public art opportunities visit the Public Art website.