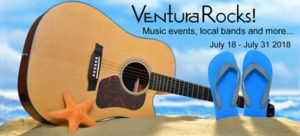 by Pam Baumgardner
VenturaRocks.com
So far this summer the weather's been great and the music hot, once again reminding me, Ventura Rocks! Top of my "hits list" of course was this year's Surf Rodeo. Our cowboy hats off to the one and only JD Drury for pulling off another successful event, especially when one of the headlining bands, The Untouchables had to pull out at the last moment, and JD saved the day with Bow Wow Wow!
Now we're looking at Tequila and Tacos music festival where tequila is the starring attraction while enjoying music from DAX, Adelaide, Patron Latin Rhythms and Mariachi Reyes. This one will be held at Plaza Park (corner of Santa Clara and Chestnut) downtown Ventura over the weekend of July 21st and 22nd.
The Ventura Music Festival continues into its second and final week with Jarabe Mexicano performing a free concert at Mission Park on Wednesday, July 18, at 5 pm; you'll want to bring blankets and chairs for this one. Then two performances will be hosted at the Ventura Performing Arts Center at Ventura College; first it's Akropolis on Friday, July 20, and then Perla Batalla's "Frida Kahlo Song Cycle" on Saturday, July 21. Oh! Just added, "All that Jazz" at Namba Performing Arts Space (Oak Street, Downtown) on Thursday, July 19th with seasoned pros, CODA opening with a set and to be joined by the 2018 Student Jazz Competition winners, Matthew Kuperberg, Henry Urschel and Finn Dunham. This one is free, but donations appreciated.
As a reminder, you'll want to check in with the City of Ventura before venturing over for Music Under the Stars this year hoping to buy tickets at the door. This event gets more popular every year and as a result more and more shows are selling out such as Blue Breeze on Saturday, July 21st, but at press time, the 28th show with Bleeding Harp had not.
Beach House Tacos on the Ventura pier is offering live music on Saturdays outside with Kyle Smith on the 21st and Jason Ho on the 28th; they'll also have live music indoors from time to time, so far they have a jazz trio, The Dynasties, on Friday, July 20th.
Discovery has a couple of interesting tribute bands lined up including Twisted Gypsy, a tribute to Fleetwood Mac, on Friday, July 20th; Hotel California, all about The Eagles, on Friday, July 27th and it's Blink-180 True on Saturday, August 4th a tribute to, yeah you guessed it, Blink-182.
And finally, a big congratulations go out to the Ventura Theater as they celebrate their 90th anniversary on Saturday, July 28th, with a concert featuring Robot Nature, Plan Your Escape, The Inside Break, Herbal Rootz and The Velveteen Band.
Do you have any music-related news or upcoming shows you want help publicizing? Please send all information short or long to [email protected], and for updated music listings daily, go to www.VenturaRocks.com.