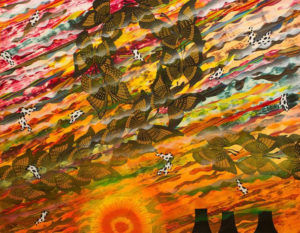 A Conversation with Merion Estes Sunday, July 29, 3 to 4:30 p.m.
Oxnard's Levity Live at The Collection, 591 Collection Blvd.
The tools of her trade have included fabric, glue, acrylic and spray paints, glitter, photo downloads and paper, gradually moving almost exclusively to the use of collaged fabrics and photos, with hand painting assuming much less importance. At first glance we are seduced by the beauty of her work. Closer inspection reveals a worrisome sense of man's depredation of the natural world.
Merion was a founding member of Double X, a women's art group, and a consistent champion of women's issues. In a recent exhibit at The Pasadena Museum of California Art, The Feminine Sublime, Merion's work was described as a counter-narrative that upends previous ideas of the sublime in painting with a unique feminist perspective.
Merion Estes states "The beauty and fragility of life and the tragedy of man's intervention is my subject." To learn about Merion visit www.MerionEstes.comCollateral.
$15 for general public; $10 for seniors. free to FOTM Members.
Visit www.FocusOnTheMasters.com or call 805.653.2501 for tickets.
AfterGLOW Fundraising Event:
Join for a celebratory dinner at the Camarillo home of Edy & Sal Santangelo immediately following the Artist Spotlight Interview. Paid reservations are essential and required prior to July 24. We expect this AfterGLOW to sell out.
$30 FOTM members,
$40 Non-members.
Maps will be given to paid guests at the interview.