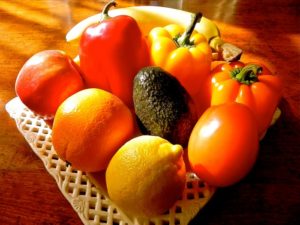 Sustainability Now News
by Maryann Ridini Spencer
Consuming an abundance of processed, preserved and refined foods loaded with sugar such as store-bought cookies, cakes and candy or foods and soft drinks laden with chemicals names that can barely be pronounced may cause momentary bliss. However, indulging in excess over time can ultimately wreak havoc on a person's waistline and mood as well as contribute to serious health consequences. In fact, research shows that regular consumption of these types of foods can lead to elevated blood sugar levels (putting offenders at a higher risk for diabetes) and contribute to a myriad of adverse health effects like an impaired immune system and vulnerability to chronic disease.
Clean Eating = Sustainable Health
"Clean Eating" is a popular term that means consuming "whole" or "real foods" (enjoyed in their natural form as found in nature) that are minimally processed and provide our bodies with the vitamins and nutrients they need.
In beautiful Ventura County, one of the agricultural hubs of the nation, abundant local produce is readily available at local groceries and Certified Farmers Markets.
There are tremendous health benefits to buying and consuming locally produced, in-season fresh fruits and vegetables, as well as sustainable meat and fish, and it's also good for the environment. Food that doesn't have to be transported over long distances translates into less travel time. Reduced travel time means fewer greenhouse gas emissions, which curbs air pollution and thus lessens the impact on climate change.
Get to Know Our Local Farmers
A trip to one of the Ventura Certified Farmers' Markets is an excellent opportunity to meet and converse with local growers about their growing practices, whether or not they use chemicals in their food production, as well as their favorite recipe and storage tips. At the Certified Farmers' Market Midtown at Pacific View Mall (Wednesdays, 9:00 am – 1:00 pm) or Downtown Ventura (8:30 am-Noon at the corner of Santa Clara and Palm Streets), open rain or shine, all farmers and producers must raise, catch, gather, grow or otherwise produce the products they sell. That goes for baked products too.
What's in season for summer?
Here's a partial list from Daylightfoods.com's seasonal guide:
Fruit: Summer Squash, Melons, Tomatoes, Stone Fruit (Peaches, Nectarines,
Cherries, Apricots, Apriums, Plums, and Pluots), Persimmons, Pears, and Figs.
Vegetables: Broccoli Rabe, Cabbage, Kale, Broccoli, Celery, and Chard.
Farmers' Market Quick Shopping Tips
Peruse kitchen cabinets and make a grocery list before venturing to the market to help reduce food waste.
Bring reusable shopping bags to carry purchases.
Ask farmers about their growing practices, storage tip suggestions, and how to use an unfamiliar fruit or veggie in a recipe.
Current California State health regulations make it illegal to bring dogs to farmer's markets unless they're service animals. Make appropriate plans for furry friends before your visit.
Find out more about Ventura County Certified Farmers' Markets: vccfarmersmarkets.com.