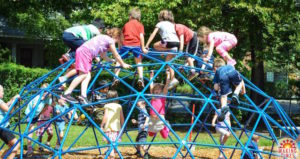 by Patty Jenkins
Remember how disappointed you felt when the bell rang signaling recess was over? Being active was fun back then and we couldn't get enough of running, jumping, playing on swing sets and playing all kinds of ball games! So maybe it is time to make "exercise" fun again, especially if you are experiencing "motivation issues" to exercise or have "mobility challenges" like Parkinson's Disease and other neurological challenges.
Come find out how to get excited about exercise (recess) again! The Ventura Parkinson's Disease Support Group is pleased to welcome Lisa Oliver, Manager of Title Boxing Club in Newbury Park and Amber Stevens, Associate Executive Director of the Ventura Family YMCA as our special guests on Wednesday, July 11.
Lisa Oliver is the Director of their Rock Steady Boxing program. Lisa's lifelong obsession with the sport of Boxing and commitment to health and fitness led to her dream job in 2013. In March 2014 Lisa and Yvette Israel, both Rock Steady Certified Coaches, helped create and now direct this nationally acclaimed Rock Steady Boxing program created in 2006 in Indiana and tailored specifically for people with Parkinson's Disease. These non-contact boxing classes help Parkinson's Disease sufferers fight back, take control of their lives, and have hope for the future by improving their balance, agility, endurance, mental focus, hand-eye coordination and overall strength .
Amber Stevens is the Associate Executive Director at the Ventura Family YMCA which has been serving the Ventura community since 1887. In her 17 years at the organization, she has an extensive background in aquatics and programming. Amber will share all things YMCA when she visits us at our meeting on July 11th. Are you interested in decreasing pain, improving mobility, flexibility and balance? The Y has something for everyone.
The Ventura Parkinson's Disease Support Group welcomes the public, our members and their care-partners, and new friends who find themselves navigating the challenges of ageing, Parkinson's Disease and other neurological conditions. Please feel free to join us Wednesday, July 11th from 1PM to 3PM at the Lexington Assisted Living, 5440 Ralston Street in Ventura. We are an independent and volunteer-organized group, not affiliated with or a part of any other organization or group. For more information, call me at 805-766-6070.
Thanks to the generosity of the Lexington Assisted Living, our meetings are held monthly. There is a drop-off/loading and unloading driveway in the front of the Lexington Assisted entrance. Extra parking is graciously available across the street in the Baptist Church parking lot. Reservations are not required. Attendees are invited to check in at the front desk for directions to the 3rd floor and sign-in at the meeting so we can keep in touch with you if you would like us to do so.