Portrait of Elisse Pogofsky-Harris by Donna Granata, Focus on the Masters Portrait Series 2004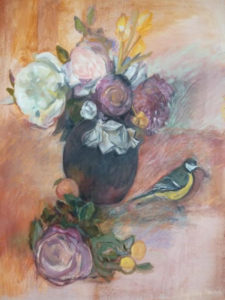 Local acclaimed artist Elisse Pogofsky-Harris passed away on June 23 from Parkinson's disease. Elisse was born in Chicago and received her degree in art from the University of Michigan. Her art career was rich in experiences as diverse as her work. Elisse was community minded, serving as the past president of the Ventura County Arts Council and board member of Women Beyond Borders of which she was a founding member.She remained an active member of both Ojai Studio Artists and Santa Barbara Printmakers.
Her work has been exhibited in the United States and abroad and can be found in the collections of museums, corporations, universities and libraries and in public and private collections. To learn more about Elisse Pogofsky-Harris visit: www.Pogofsky-Harris.com.