•SPAN Thrift Store is providing $10 spays and neuters for low income cat and dog friends.
At a wew Location the Albert H. Soliz Library – El Rio, 2820 Jourdan St., Oxnard on Friday, June 29th.
Please call to schedule an appointment 805-584-3823.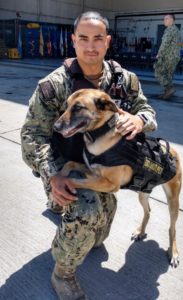 •Housing Authority to host its 4th Annual TYDTWDay® 2018
On Thursday, June 28, the Housing Authority of the City of San Buenaventura (HACSB) will join companies around the globe in opening their doors to employees' furry, four-legged best friends for PSI's 20th annual Take Your Dog To Work Day (TYDTWDay®).
TYDTWDay was established by Pet Sitters International in 1999. This annual event urges businesses around the globe to experience the joys of dogs in the workplace for just one day to celebrate the great companions dogs make and to promote adoptions from local shelters, rescue groups and humane societies.The 2018 celebration marks the HACSB's fourth year of participation.
"The Housing Authority of the City of San Buenaventura is excited to go to the dogs for a good cause! We see this event as a way to recognize the important role dogs play in our employees' lives and an opportunity to make a positive impact on our local community," says Cheryl Tabbi, Human Resources Manager.
The HACSB anticipates 10 dogs to join them on Thursday, June 28 and has a variety of activities planned, including photo sessions, a pot luck lunch and doggie swag bags with donations provided by Petco, Petsmart, Lucy Pet Products, and VCA Westlake Animal Hospital.
For more information on PSI's Take Your Dog To Work Day, visit www.takeyourdog.com or PSI at
(336) 983-9222, ext. 23230 or [email protected]
The HACSB is the largest residential landlord in the City of Ventura, with 376 public housing units, more than 1,500 Section 8 vouchers, and over 450 non-profit affordable rental units. The agency is actively working to increase the supply of affordable housing and to improve the quality of life for hundreds more of the low-income residents throughout the City of Ventura. To learn more about the Housing Authority of the City of San Buenaventura or its TYDTWDay celebration, visit www.hacityventura.org or e-mail [email protected]
HACSB 995 Riverside Street (805) 648-5008 Fax (805) 643-7984 Tdd (805) 648-7351
•Pit Bull Sasha saves the day!
By Victoria Usher
On Sunday, June 3rd, 2018 an 8-month-old pit bull named Sasha was sitting outside of her Stockton, California, home when flames began to engulf the apartment building. Nana Chaichanhda, Sasha's buddy, and her baby were both inside. Sasha quickly alerted Chaichanhda that there was a fire in their building and then proceeded to help the family escape from the burning building.
Chaichanhda explained that at first, she was confused, then she realized that her cousin's apartment, which was right next door, was up in flames. Firefighters arrived on the scene and were able to save most of the building. Chaichanhda and her cousin's apartment were destroyed in the blaze, the family is currently staying with relatives who live in one of the surviving apartments, CBS affiliate WTVR-TV reports. Chaichanhda says that it is because of Sasha that she and her baby are both safe, and she hopes her story will help change the negative perception of pit bulls.
•While fireworks are fun for people, they can be dramatic to our pets. All the noise and activity easily scares animals that might escape from home. Did you know, more pets go missing during July 4 holiday in any other time of the year?
•The Wabash Valley Animal Hospital has been conducting a stem cell trial to help our furry friends in need. Over the last year the hospital has given the free trial to many dogs. It's a blind study and placebo trial. "Two thirds of these animals do get stem cells" said Doctor Andy Pickering.
If a dog is healthy, they're eligible to be a participant in the study. Dogs receive injections of the trial in their joints, and they will either receive stem cells or a placebo.
One dog buddy says he can tell the trial is helping 17-year old Mooska. "Within a few days, he started acting better, and is still just going right up and down the steps like no problem at all," said William Joe Robinson.
Wabash Valley Animal Hospital 812-299-2200.