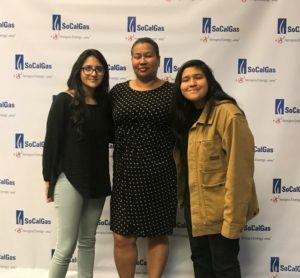 Southern California Gas Co. (SoCalGas) has announced four students from the Central Coast as recipients of a $5,000 college scholarship from the utility. SoCalGas' Scholarship Program is distributing scholarships totaling $225,000 to 45 students this year. Since its creation in 2001, the program has provided more than $2.2 million in scholarship funding to more than 2,500 students. Recipients were evaluated on academic achievement, community involvement, and an essay on climate change.
SoCalGas Scholarship Program helps young people continue their education and build a pipeline of diverse future engineers and other professionals who are prepared for the competitive workforce," said Gillian Wright, chief human resources and administrative officer for SoCalGas. "We believe that a well-educated workforce is essential for a vital and economically healthy Southern California and are thrilled to award scholarships to this group of exceptional students."
The local recipients are:
Jahmai Cabrera of Santa Barbara, Anais Jimenez of Santa Barbara, Desiree Estrada of Ventura and
Destinee Estrada of Ventura (both from Ventura High School).
In addition to providing academic scholarships, SoCalGas supports technology-based learning in science, technology, engineering, and math (STEM) at schools across its service territory.