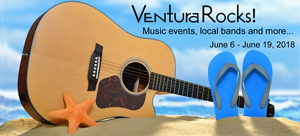 by Pam Baumgardner
VenturaRocks.com
Ventura's music scene is a giant eclectic mix of music, everything from punk to jazz and all points in between, so we really are lucky to have so many genres of music available to us. One of my favorite events every year comes from higher brow end of the musical spectrum, The Ventura Music Festival. This year's schedule ranges from the big band sound of "little orchestra" Pink Martini from Portland, Oregon, to lively Latin music with Jarabe Mexicano. Perla Batalla returns with Frida Kahlo's "Blue House", John Jorgenson Quintet will offer Gypsy Jazz, there will be traditional chamber music from Trio Celeste directed by Ventura Music Festival Artistic Director Nuvi Mehta and so much more including the traditional Tea & Trumpets brass quintet. Showtimes, tickets and locations are listed on the event's official website www.VenturaMusicFestival.org. Yeah, I know the Ventura Music Festival isn't until July, but most events will sell out so don't wait to purchase tickets.
Local artist, Rachel Flowers will give a performance before a screening of the documentary featuring Flowers, "Hearing is Believing" at the Museum of Ventura County on Friday, June 8th; there will be a post-screening discussion.
Before Shelby embarks on returning to school and focusing her energy on getting her Music Therapy degree, she's holding what may be one of the last Songbird Serenades, at least for a while. The June 15th installment will feature Jamie Drake, Shelby Figueroa and Brendan Willing James at Ventura Vineyard Church.
Sorry to report that both Wicked's Brew and Cork have closed their doors. If you've never heard of one or the other, that's a shame. My biggest word of advice to venues that offer music is you have to promote, promote, promote! You have to budget for it, and you should use all free resources available to you including social media, and keeping The Breeze, other newspapers and VenturaRocks.com updated on your music.
Quick notes: Reggae has returned to the Tree House Lounge at Café Fiore on Sundays; Lovataraxx from France plays The Garage on Thursday, June 7; Former Scorpions guitarist, Uli Jon Roth returns to the Ventura Theater, Sunday, June 10; The Mighty Cash Cats celebrate their ten-year anniversary with a show at Bombay's on Sunday, June 10; MJ Déjà vu, a tribute to Michael Jackson will be at Discovery on Saturday, June 16; D.on Darox & the Melody Joy Bakers play El Rey Cantina on Saturday, June 16.
Finally, Ticketfly suffered a cyber-attack and as a result, most of the websites they support were down including the Ventura Theater and for a time, Discovery. There currently hasn't been any mention of credit card information being compromised, but stolen information included customers' names, addresses, emails and phone numbers of nearly 26 million user accounts.
Do you have any music-related news or upcoming shows you want help publicizing? Please send all information short or long to Pa[email protected], and for updated music listings daily, go to www.VenturaRocks.com.