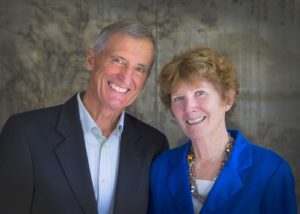 August 25, at the Four Points by Sheraton, Ventura.
This year's Focus on the Masters Gala will honor longtime FOTM patrons John and Cherie Brant. Cherie is an accomplished writer, known for her informative books on the history of Ventura County. Cherie began volunteering for FOTM in 2003 serving as the FOTM Board Secretary. Her volunteer efforts continued for over fifteen years devoting her time and talent to special events, editing, and Board responsibilities. John recently retired from his career as a wealth management professional. Many know his creative side: photographer, juggler and unicyclist. They are deeply committed to our community, sharing their time, talents and resources, always ready to pitch in and lend a hand. They know that dedicated volunteers enable our community to thrive. Gala attendees will have the opportunity to win an original painting by Gail Pidduck while enjoying wonderful music, food, wine and a live and silent auction.
Help FOTM make this Gala the most successful yet! Meet new friends and have a great time while raising money for arts education while volunteering. Email [email protected] to let her know your area of interest.
Sponsorship opportunities, tribute gifts and an opportunity drawing for an original Gail Pidduck are available at www.FocusOnTheMasters.com.
653-2501- [email protected]: www.FocusOnTheMasters.com