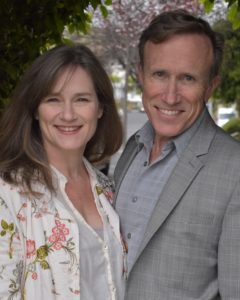 This summer at Rubicon, Broadway performers and husband-and-wife duo Kirby and Beverly Ward step into a new role as the Directors of Education and Outreach. Over the last decade, audiences have seen them in main stage productions of She Loves Me, King Lear and Return to the Forbidden Planet, but now they'll be teaching performing arts to youths within the community.
The summer program was created and led by Brian McDonald 15 years ago and has enjoyed a stellar reputation for presenting high-quality productions and exceptional performances from young people. Some students have gone to work as professional actors both locally and in New York City. Kirby and Beverly Ward are thrilled to continue the summer program and have already conducted auditions for Madagascar Jr., Julius Caesar, and Grease (the musical celebrates its 40th anniversary). They have been "over the moon" at the level of talent and enthusiasm exhibited by the kids.
The Wards have seen firsthand how a youth program like the Rubicon's can change lives. They grew up studying at San Diego Junior Theatre – a place that not only turned out some amazingly talented theatre professionals but also countless doctors, lawyers, designers, engineers and more. For them, they want to inspire confidence, and a sense of community for the kids who train at Rubicon.
Of the kids who auditioned some need some financial assistance. It is the Rubicon's goal to see every one of these extraordinary kids get the opportunity to participate, and in so doing we need the community to lend their support. By providing scholarships, a real difference will be made in these young people's lives. There are options at many levels. No amount is too small (or too big!) to ensure every student can experience this program and be enriched by it.
To donate to the Education scholarship fund please call the Box Office from noon to 6 p.m. Tuesdays through Saturdays; Sundays from noon to 2 p.m. only on show days. 667-2900.
To donate online please visit rubicontheatre.org/donate or by mail at Rubicon Theatre, 1006 E. Main Street, Ventura, CA 93001.
2018 Summer Youth Productions:
The Grunch on June 30 performed by kids ages 5-11
Madagascar, Jr. on July 6-8 performed by kids ages 11-14
Julius Caesar on July 20-22 performed by kids ages 15-24
Grease on August 3-5 and August 8-11 performed by kids ages 15-24