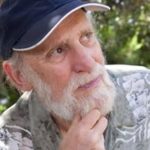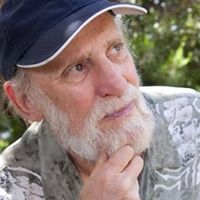 We are all feeling the pain over the death of Anthony Mele at Aloha Steakhouse. It is a tough, tough situation. And presents an even more challenging solution.
Is the answer more police, more housing for the homeless, more mental facilities? If Ventura had the answer, we could sell it to the world. This problem is hardly unique to Ventura. Maybe we have more homeless than some cities our size, because of the great weather.
Even though this tragedy occurred on the Promenade, it could have happened anywhere in Ventura where this person, who I would assume is mentally ill, has been. Downtown, midtown, Pierpont,etc.
Folks say we need more police officers on the Promenade, or at our parks or in our river beds.
Sure we do. We want 12 police officers at each location. Maybe a police officer for each homeless person. The issue is who is going to pay for them?
Proposition O – our sales tax increase – is helping a bit(we have hired more police officers), but should all of that money be spent on law enforcement? I don't think so and folks who voted for it wouldn't think so either.
Many of the people who complain about us not having enough police officers also don't want $10-$20 million executive homes in Ventura that would bring in major employers and much needed tax dollars. Unfortunately, we can't have it both ways.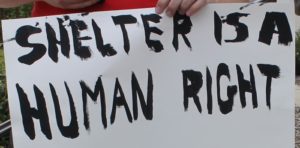 I frequently hear the question, why doesn't the police and City Council do something about this problem? But, I think solutions (whatever they are) are going be a collaboration between the city and the community. Resources cost money.
What is important is that we don't let this tragedy stop us from doing the activities that we usually do and enjoy. If you frequent the Promenade, and also eat at the restaurants located there, please keep doing so. We need to support Ventura. This was, for now, a rare occurrence – don't change your lifestyle and enjoyment of our great town.
But, yes, we need solutions. What are other cities doing about it? LA County has over 60,000 homeless they would love to know how to get control of this issue. We need ideas?
This is from the LA Times. "California's state auditor sharply criticized the state's response to homelessness recommending more spending in the state. California should do more to address homelessness, the audit concluded.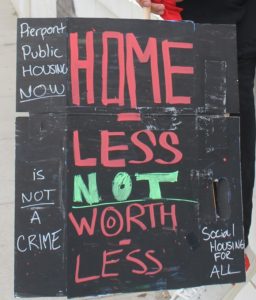 Please understand that I'm not trying minimize this horrible tragedy in any way. Perhaps the police should have done more but they are governed by state law regarding the arresting of the mentally ill. Perhaps looking to change existing laws regarding the mentally ill needs to be re-examined. And being homeless is not illegal, and if it was where would we incarcerate these people?
The mentally ill homeless presents its own problems and solutions. The LPS Act(see the article on page by Sheli Ellsworth for an explanation of the LPS Act) makes it difficult to arrest and help the mentally ill when they need assistance. It must be revised to make it easier for law enforcement to get mental health and medical treatment for this segment of the homeless.
We need to fix our broken mental health system and provide housing for the homeless which, of course, takes a large amount of money. More information about what is being done to change some the laws can be viewed at "Keep Cal Safe".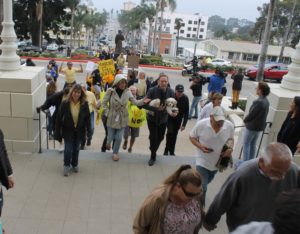 On April 23, dozens of people marched from the Promenade to City Hall to attend the City Council Meeting. The attendees demanded that the Council does more on the issue of homelessness. The crowd chanted "enough is enough" as they made their way to city hall.
Even though this topic wasn't on the agenda the City Council gave the concerned citizens one hour speak. About 30 of them did so. Most gave emotional and personal stories of how their lives been negatively impacted by the homeless/vagrant population in Ventura. Some just vented their anger and just wanted the "bums" kicked out of Ventura. How they are sent packing and where we they are sent to was not made clear. And who decides who the bums are?
I think that it was a shining hour for our City Council. They all sincerely thanked those that were there to express their feelings and each member told how this tragedy had personally affected them. They all agreed that this issue is out of control. Mayor Neal Andrews was almost in tears telling how this tragedy has affected his Council members. Co-owner of Aloha, Charnell Smith, was also brought to tears sitting in the audience.
Interim City Manager Dan Paranick explained some of the actions that have been taken already, and many others that will be implemented in the future. This includes more police on the Promenade, expanding the Ambassador Program and other initiatives. He said he hoped all the sides could gather together to share ideas and listen to each other to ensure the "future safety and quality of life in our city."
Ventura Chief of Police Ken Corney stated that officers should have responded to the initial call differently and "put boots on the ground." He also stated that there is no evidence that the homeless are being sent here from other cities.

The City Council meeting was covered by many TV Stations and had a lead story in the April 24 edition of the LA Times. This negative publicity could hurt our very important tourism trade, which brings in needed tax dollars. This then translates to even less money available to help solve this problem
To review the City Council meeting, go to www.cityofventura.ca.gov- videos -available archives- city council -April 23.
To help the Mele family go to http://pierpontcouncil.org/page/Donate-Anthony-Mele.aspx.