Have you ever been moved by a painting and wonder who is this artist and what moves them? On May 3rd Ventura Fox Fine Jewelry is providing the opportunity to hear from two such artists at their Art Talk. The speakers will be Andrea Vargas, locally known in for her courageous renditions of life, and Florencia Ramirez, author of Eat Less Water, who as a researcher and Oxnard mother discovered that the solution to worldwide water shortages is in our kitchens.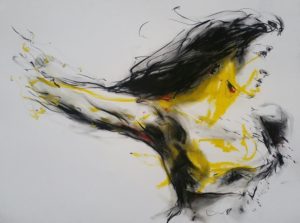 On May 3, 6-7pm arrive early to enjoy the Andrea Vargas and Christine Leong exhibit. Stay a little longer to have your book signed or to acquire some art or jewelry.
Arts & Eats will be held in downtown Ventura on Saturday, May 19 from 6 – 8pm. Fifteen galleries, restaurants and shops open their doors for art receptions and complimentary tastes. The event is free to the public.
Venturans Kenny Backer, Steve Cattanach, and Denise Dewire will display their local photography in "Ventura Vistas" from May 17 – July 8, with an Art Reception on May 19 from 6 – 8:00pm. Musician Corinn Conant will sing and play guitar during the reception. See http://www.foxfinejewelry.com/pages/arts-eats for gallery shows information:
Fox Fine Art Jewelry, 560 E Main Street, 652-1800.